China round-up: Friendship with North Korea stressed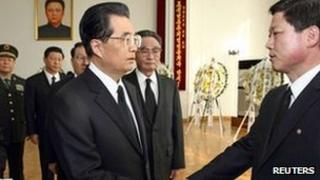 National newspapers in China have continued to lead on North Korea as President Hu Jintao offered condolences over the death of leader Kim Jong-il.
China Daily, People's Daily and others report on the visit by Mr Hu and various Chinese state leaders to the North Korean embassy, where the president stressed the importance of maintaining "traditional friendship" between Beijing and Pyongyang.
The Global Times comments on reactions from South Korea and the US, describing remarks from US Secretary of State Hillary Clinton and the government in Seoul as "more calm than expected".
The same paper also reports on the debate in foreign media on whether Pyongyang will implement Chinese-style economic reforms.
Premier Wen Jiabao's appeal for confidence in China's economic development as he tours the eastern province of Jiangsu is another lead story in China Daily and People's Daily.
At the same time, Vice Premier Li Keqiang told a conference in Beijing that a balance between development and the environment was essential, reports the China Daily, while People's Daily runs an editorial which appeals for a "new phase" of environmental protection.
Two other piece of diplomatic news have also featured on the front page of People's Daily: President Hu Jintao's meeting with his Polish counterpart Bronislaw Komorowski in Beijing, and Vice President Xi Jinping's arrival in Hanoi for an official visit in Vietnam.
In the south, the dispute in the Guangdong village of Wukan remains the focus, as Guangzhou's Southern Metropolis Daily and others confirm a meeting between provincial officials and village representatives is to take place on Wednesday.
Zhu Mingguo, deputy Communist Party secretary of Guangdong, has promised freedom of movement for representatives who are prepared to talk, the report says.
Hong Kong's Ming Pao Daily News reports on the strong criticism of protesting villagers by Zheng Yanxiong, local Communist Party secretary of Shanwei City, and suggests that the authority of the city has been "overridden" by provincial intervention.
Newspapers in Hong Kong also carry coverage on yet another protest in Haimen Township in Shantou - less than 130km from Wukan Village. Around 50,000 people participated in the violent demonstrations, says Ming Pao.
In Hong Kong itself, newspapers including The Standard report on an emerging lawsuit concerning the estate of billionaire Henry Fok Ying-tung, who died in 2006.
Mr Fok, who was a vice chairman of the Chinese People's Political Consultative Conference (CPPCC) and hence ranked as one of China's state leaders, is said to have an estate worth HK$28bn ($3.6bn; £2.29bn) in total, says the China Daily's Hong Kong Edition.
Sing Tao Daily and some other papers have also managed to pick up the late night announcement that some 17,000 chickens will be culled as the deadly H5N1 bird flu strain is found in a dead chicken at a wholesale market - the first such culling in Hong Kong since December 2008.