Talks bring progress in rebel China village of Wukan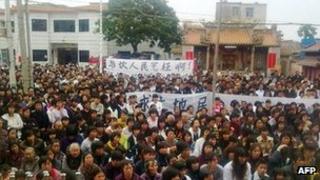 Residents of a Chinese village locked in a stand-off over land seizures appear to be nearing a compromise with local authorities.
Protests have been simmering in Wukan, in Guangdong province, since September and escalated after the death of a village negotiator in police custody.
Villagers had planned a march through police barriers on Wednesday.
But a senior official met a village representative, and villagers said some demands had been met.
The villagers say officials have sold off their land to developers and failed to compensate them properly.
They also want an investigation into the death of Xue Jinbo, who died on 11 December while in the hands of local police.
Police say he died of a "sudden illness", but his family say he was beaten to death.
The villagers had planned to march through police barricades around the town to local government offices. Local authorities had urged them not to.
Amid deadlock, deputy provincial Communist Party secretary Zhu Mingguo agreed to meet local leaders on Wednesday in the town of Lufeng.
Village representative Lin Zulian said that the authorities had agreed to release three other village leaders detained at the same time as Mr Xue, and to release Mr Xue's body.
"I'm very satisfied with the outcome of the meeting," AFP news agency quoted him as saying. "This is not a victory, but it is a beginning."
Villagers have told the BBC they will return to the streets if promises are not kept. They later held a meeting to discuss the developments.
There are thousands of protests over land grabs in China each year but the situation in Wukan has attracted considerable attention because of its scale.
There has also been a series of strikes and labour walk-outs in southern China in recent months.
On Tuesday a separate protest erupted in Haimen, also in Guangdong province, over local government plans to build a power plant.