China morning round-up: Online railway ticket chaos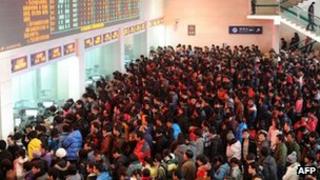 Newspapers in China report on Tuesday of chaos surrounding sales of railway tickets across the country - this time on the internet.
Reports in China Daily and Beijing News say the official booking website was "overwhelmed" by huge traffic, while Shanghai Morning Post and Guangzhou's Southern Metropolis Daily report tales of money being charged but no tickets being issued.
A small picture story on the overseas edition of People's Daily says ticket halls at major railway stations are still packed, nonetheless, as some people are not familiar with online booking.
Spring Festival - or Chinese New Year - sees a massive flow of people across China as migrant workers and students go home to see their families.
It is believed to be the biggest annual migration of people in the world and the government even has a dedicated phrase - "Chunyun" - to describe the period of high traffic before and after the festive season.
In the diplomatic arena, People's Daily carries a report from Xinhua News Agency on President Hu Jintao's exchange of New Year telegrams with South Korean President Lee Myung-bak.
The two countries are marking 20 years of diplomatic ties this year, amid recent spats over fishing and tension over North Korea.
Hong Kong's Ming Pao Daily News reports a row between Beijing and New Delhi after a diabetic Indian diplomat was hospitalised after attending a court hearing that lasted five hours and was not able to take his medication.
The incident took place in the city of Yiwu - a city famous for trading small merchandise items - and China's top diplomat in New Delhi has promised an investigation after being summoned by India's Ministry of External Affairs.
In Hong Kong, front pages report that several areas in the city's new Government Headquarters and Legislative Council compound have been found with the deadly Legionella bacteria.
The Standard and Ming Pao Daily News says those trouble spots include Chief Executive Donald Tsang's own private toilet, while a health expert and former politician says a rushed move to the new compound has to be blamed.
The Department of Health carried out the investigations after Secretary for Education Michael Suen fell ill with the disease before Christmas.