China's microbloggers quadrupled in 2011, report says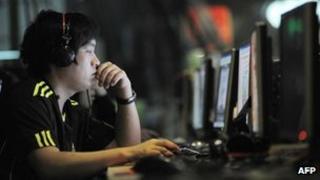 The number of microbloggers in China quadrupled in 2011, according to a think-tank report.
Nearly half of China's 513 million netizens used weibo sites - Twitter equivalents - last year compared to 63 million in 2010, the China Internet Network Information Center report said.
Chinese microbloggers took to the platform to voice opinions on protests, corruption scandals and major events.
The number of Internet users represents 38.3% of the 1.3bn population.
This jump in the number of microblog users has made it harder for China to impose strict controls on the web.
Last year was a watershed year for users of weibo sites such as those run by Sina Corp and Tencent Holdings.
Major events such as the Wenzhou train crash in July, a hit-and-run that left a severely injured toddler to be ignored in the road and mass protests in Dalian and Wukan, among others, fuelled discussion on the sites.
Growing popularity
Late last year several Chinese cities, including Beijing and Shanghai, began requiring weibo users to register their real names.
Critics said this was an attempt to deter postings critical of the government and make it easier for such posts to be tracked.
Microblogging services were also ordered to monitor content more closely and remove objectionable posts more quickly.
The number of Internet users also rose 12.2% in 2010, according to the official data.
Users who go online via hand-held devices increased 17.5% from the previous year to 356 million last year - an indication of the growing popularity of such devices.
Last Friday, angry customers waiting unsuccessfully to buy the iPhone 4S threw eggs at Apple's flagship Beijing store.
The report also said that the number of Internet users in rural areas also increased by 8.9% to 136 million.
However, there is still a huge disparity with web usage in the cities.
More than 70% of Beijing's population were online last year, compared to 24.2% of people in Guizhou, the poorest province in China.