Foshan hit-and-run woman is China 'national role model'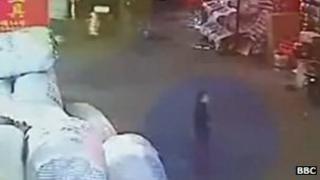 China has named a rubbish collector who helped a toddler injured in a hit-and-run incident in October a "national role model".
Chen Xianmei, 58, was honoured in Beijing on Monday at an event organised by China's state news agency Xinhua.
She stopped to help two-year-old Wang Yue, who was ignored by 18 other passers-by after the accident in Foshan in Guangdong.
The incident, captured on security cameras, drew international attention.
"I think we should just save others," Ms Chen, quoted by Xinhua, said at the awards ceremony. "What I did was nothing special."
She joined nine other individuals who were chosen for their actions on "moral and societal issues".
The incident involving Wang Yue - also known as Yue Yue - prompted a public outcry about morality in the country.
After the van that initially hit the toddler sped off, several pedestrians and vehicles passed her without stopping. Minutes later, she was hit by another vehicle.
Ms Chen spotted the toddler and moved her to the kerb before looking for her mother. The toddler died several days later in hospital.