China morning round-up: Wen Jiabao in Middle East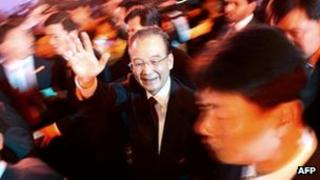 Premier Wen Jiabao's visit to the Middle East remains a major focus of Thursday's coverage in Chinese newspapers.
As the premier wraps up his six-day tour in the region, he has overseen the signing of multi-billion-dollar economic and trade agreements with Saudi Arabia and the United Arab Emirates, reports the China Daily.
People's Daily also reports on Mr Wen's meeting with his Qatari counterparts, as well as a speech he made at a trade forum before he left the UAE.
Back in the country, another focus of the day is the press conference held by the State Council Information Office on Wednesday.
Wang Chen, the office's minister, says the government should better utilise microblogs to provide information and improve transparency, report the China Daily and People's Daily.
People's Daily also runs a commentary piece which says government officials should have the ability to withstand situations of "being encircled by the public" - a phrase that now describes issues being picked up by the public in cyber space.
In other news, People's Daily reports a Spring Festival meeting with non-Communist Parties chaired by President Hu Jintao, while China Daily covers a meeting between Vice-Premier Li Keqiang and Henry Kissinger, former US Secretary of State, back on Tuesday.
People's Daily also publishes an interview with the World Bank's chief economist Justin Lin, as he releases the bank's annual economic predictions in Beijing. Mr Lin warns of difficult times ahead for the global economy.
The Global Times reports in its Chinese edition a visit by four US senators to the Philippines, in which the paper accused the politicians for "agitating" for Manila to be armed for possible military conflicts with China over the disputes in the South China Sea.
Also, as the Spring Festival travel rush speeds up, the English edition of Global Times and others warn of possible further disruption caused by bad weather as northern China sees heavy fog.
People's Daily reports on the national police agency's contingency plans for the weather chaos, while Beijing News reports on yet another day of heavy air pollution that contributes to the capital's thick fog.
Further reports on the Beijing News suggests that China's Centre for Disease Control And Prevention is preparing to issue regular health alerts on PM2.5 pollution.
Food is another major concern for people ahead of the Chinese New Year - both in terms of price and safety - and Shanghai Morning Post reports on the latest phenomenon in the financial metropolis where people start to buy a whole pig or goat or organic vegetables directly from farms.
Papers including the Global Times and Beijing News report on the appeal trial of a fraud case in Zhejiang Province, where a death penalty sentence has been upheld for 31-year-old Wu Ying. She is accused of raising 770m yuan ($122m; £79m) through illegal investment.
Meanwhile, Guangzhou's Southern Metropolis Daily reports on another trial in Hebei, where defendant Sun Lipeng has been sentenced to 20 years in prison for illegally raising 3.3bn yuan ($527m; £342m).
It also reports on a corruption case in the city of Zhaoqing, where a local court judge has been sentenced to life for taking bribes totalling 6.49m yuan ($1.03m; £666,000).