China sacks four officials in Tibet over 'stability'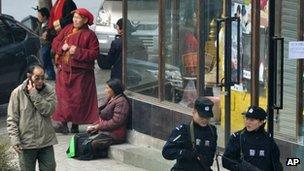 The Chinese Communist Party chief in Tibet has sacked four officials for "endangering stability" in the region, state media reports.
According to the Tibet Daily newspaper, they were sacked for leaving their posts in the Chamdo region during the Lunar New Year.
The regional government on Monday had warned officials to maintain stability or face dismissal or criminal charges.
The dismissal comes as another Tibetan reportedly set himself on fire.
Two of the four officials face disciplinary charges.
The man who set himself alight is believed to be a monk in Aba prefecture in Sichuan province, rights groups said. If confirmed, this would be the 20th such case in the past year.
He was reportedly taken away by police on Wednesday and his current condition is unknown.
The incident was reported by various rights groups, as well as the Tibetan Centre for Human Rights and Democracy (TCHRD) in Dharamsala, India, the base of Tibet's government-in-exile.
Tsering Tsomo, executive director of TCHRD, told Reuters news agency that the incident occurred outside a school.
Two exiled Buddhist monks, Kanyag Tsering and Losang Yeshe, were also quoted by various sources as saying that the man was taken away by security forces, with his current whereabouts unknown.
Aba county, an ethnic Tibetan area of Sichuan province, is where several of the self-immolations have occurred.
Tibetan-populated parts of China are experiencing their worst unrest in four years, ahead of the Tibetan new year on 22 February.
The incident follows a series of deadly protests against Chinese rule in the province since January. Last month, three violent protests were also reported.
Chinese state media has described the protests as mob attacks and riots, while activists say police have opened fire on peaceful protesters demonstrating against religious repression.
International media are denied access to the area, making it difficult to verify conflict accounts.
Correspondents say the recent violence in the region is the most serious outbreak of anti-government protest among Tibetans in nearly four years.