Chongqing leader Bo Xilai speaks on deputy scandal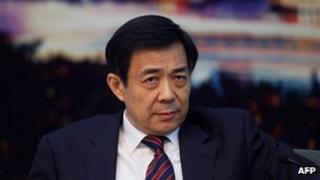 A Chinese politician has spoken about a high-profile scandal that has led to intense speculation and wild rumours.
Bo Xilai, in charge in the city of Chongqing, said he was surprised to learn that his ex-police chief had run off to a US consulate.
Many suspect the policeman went there to seek asylum.
The incident could affect Mr Bo's chances of promotion later this year, when the Chinese Communist Party changes its top leaders.
In public at least, Chinese politics are sedate and predicable. But this scandal has flipped this world upside down.
It began when Chongqing's popular police chief, Wang Lijun, turned up at the US consulate in Chengdu, a few hours drive from where he worked.
He stayed a whole day and was only persuaded to leave after Chongqing's mayor dashed to the scene to "talk him round".
Mr Wang emerged from the consulate and into the waiting arms of the police. He is now under investigation.
Bo Xilai was involved because he had brought the dashing police chief to Chongqing to crack down on organised crime.
After a long silence, Mr Bo has now spoken about the incident, answering questions from journalists at a meeting on the sidelines of China's annual parliamentary session.
He said he did not imagine Mr Wang would run off. It came suddenly.
"I feel like I put my trust in the wrong person," he added, speaking at a meeting of Chongqing delegates to the parliament, officially called the National People's Congress (NPC).
Mr Bo said he was co-operating with the investigation into his former police chief, although he said he was himself was not implicated.
Leadership change
This is a sensitive time for Chinese leaders, who are preparing for a once-in-a-decade reshuffle at the top of the party and the government.
Bo Xilai has been tipped for promotion, but many think his connection to this scandal will dent his chances of getting a top job.
Mr Bo seems aware of this possibility and has kept a lower profile at this parliamentary session than in previous years.
Meetings of provincial delegates to the NPC are usually open to the press, but only a few hand-picked reporters were allowed to attend the Chongqing gathering. Others were stopped from entering by security guards.
Mr Bo is usually happy in the limelight.
The Chongqing party chief also failed to attend an important NPC meeting on Thursday, leading to questions about the reason why.
I had a cough and was not feeling well, was Mr Bo's comment on Friday.
It seems a weak excuse as this was not just any gathering. It was a meeting of the Chinese parliament, and all Mr Bo's colleagues were there.