Bo Xilai: End of Chongqing leader's political ambitions?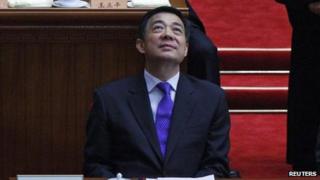 In the closed world of Chinese politics, it is sometimes difficult to spot defining moments - but Bo Xilai's removal from office is certainly one.
He is a suave and sophisticated politician - a member of the Chinese Communist Party's politburo who had been tipped for even higher office.
The party meets later this year for its 18th congress to reshuffle its top leaders. Many thought Mr Bo would be promoted to the politburo's standing committee, the country's highest decision-making body.
That ambition now looks to be over with news that he has been replaced as party boss in the city of Chongqing.
There is currently a battle taking place within the high reaches of the party about who will lead it in the coming decade.
This is the opening shot in that campaign - and suggests it will be a tough fight.
To many observers, Bo Xilai seems to have been running a campaign for promotion for the last several years, ever since he took over as boss of Chongqing in 2007.
Popular campaigns
He launched a campaign against organised crime during which hundreds of people - some of them senior city officials - were charged.
To spearhead this fight, he brought in a popular police chief, Wang Lijun, whose crime-fighting exploits had once inspired a TV series.
Mr Bo also sought to revitalise interest in the country's communist past under Mao Zedong. Chongqing organised "red" singing contests, which spread across the country.
A number of senior national politicians visited the city, in western China, to show their support.
Both these campaigns were popular with ordinary people - a fact reflected in the comments of support for Mr Bo on the internet when news of his removal was released.
When Mr Bo attended China's annual meeting of parliament, held each March, he was a visible figure, seeming to enjoy the limelight.
The first sign that his rise had hit a hurdle came last month.
Wang Lijun, his police chief, was demoted then fled to the US consulate in Chengdu, a few hours' drive from Chongqing.
Many suspect he went there to seek asylum.
He was eventually persuaded to leave the consulate, emerging into the waiting arms of the police and an investigation.
Bo Xilai denied his involvement in this affair, but many thought it would reduce his chances of being promoted to the politburo's standing committee.
Out of race
All eyes were on this year's meeting of parliament, a chance to see all of China's top politicians together. How would Mr Bo act?
The 62-year-old is a flamboyant politician, sending his son to the UK's exclusive private school Harrow. But at this meeting he took an unusually low profile.
He missed a full meeting of parliament - the only member of the communist party's politburo to do so. His excuse that he had a "cough" sounded feeble.
A meeting of Chongqing delegates to the parliament, an event usually open to the press, was then mysteriously restricted to just a handful of reporters.
The central party authorities had still not commented, though, which left some wondering whether Mr Bo could weather the storm.
But then came a news conference by Chinese Premier Wen Jiabao, held at the end of the parliamentary session.
He took - and answered - a direct question on the Wang Lijun incident.
"The present Chongqing municipal party committee and the municipal government must reflect seriously and learn from the Wang Lijun incident," he said.
It was phrased in the language of bureaucracy used here in China, and Bo Xilai's name was not mentioned, but the country's premier had just publicly criticised the Chongqing party chief.
Mr Wen went further, suggesting his dislike for "red" campaigns. Was this another rebuff for Bo Xilai? It probably was.
We do not know what will now happen to Mr Bo, but it seems clear that he is out of the running for promotion.
His sudden and dramatic fall from power also suggests a fierce battle is taking place behind the scenes at the top of the communist party.
Chinese leaders like to give the impression that the change in leadership later this year will be smooth and follow set procedures. This latest political act suggest otherwise.