China morning round-up: Chongqing's political storm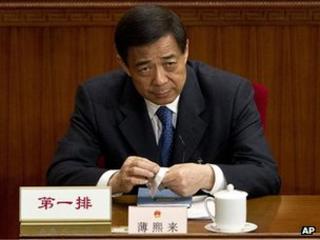 News of the sacking of top Chinese politician Bo Xilaiattracted much attention, but received varying treatment from different Chinese newspapers on Friday.
Both thedomesticandoverseaseditions of People's Daily have only put up the one-line announcement from Xinhua News Agency on the front page.
China Dailycarries a more detailed report from Xinhua, which says the decision was announced by Li Yuanchao, head of the Organisation Department of the CPC Central Committee, at a meeting of officials in Chongqing on Thursday.
It also reportsthat Beijing has decided to remove Mr Bo's former deputy Wang Lijun, who was at the centre of a scandal involving a visit to the US consulate in Chengdu.
In Chongqing, local newspapers such as theChongqing Commercial Dailygive more detailed accounts of the meeting where the announcement was made, with the municipality's mayor Huang Qifan saying that officials in Chongqing will "firmly support" Beijing's actions on both Bo Xilai and Wang Lijun.
Guangzhou's 21st Century Business Heraldreports that local broadcaster Chongqing Satellite Television has transmitted its first commercial in a year right after the evening news bulletin that reported Mr Bo's sacking.
The channel was re-branded by the government as a "red channel" one year ago to promote ideologies originating from the Chinese communist revolution, the paper says, with commercials cancelled and leftist "red song" shows being added to the broadcasts.
Beijing Newsreports on the investigation on Ju Fengjie - a former police chief in the city of Tieling, in Liaoning province - who is accused of corruption.
Ju took over the post from Wang Lijun in 2003. Party officials in Liaoning insist that Mr Ju's case has nothing to do with Mr Wang.
Hong Kong's newspapers pay much more attention to the news, withSing Tao Dailysaying on its front page that Bo Xilai was "held accountable" for Wang Lijun's incident.
It also says thatcomments made by Premier Wen Jiabao on Wednesdayon the incident were actually a consensus reached among the nine Politburo Standing Committee members.
The editorial of Ming Pao Daily Newssays that Mr Bo's sacking has proved that "rule of force by one man" is doomed to fail in contrast to the rule of law which respects people's individual rights.
In other news,China Dailyand People's Daily report that Beijing will soon begin negotiations with the US, Japan and the European Union to resolve the dispute over rare earth exports from China.
A Global Times commentarywritten by a senior journalist from the People's Daily suggests that people in China should "get used to" trade lawsuits filed by the US and the EU.
Beijing Newsand a few other papers follow up onthe subsidence issuewhich hit the newly-built Hanyi High Speed Railway in central Wuhan province.
And as Apple's new iPad tablet PCs roll out in East Asia on Friday,China DailyandShanghai Morning Postreport on a protest outside an Apple Store in Shanghai against substandard Apple products.
China marks the 15 March World Consumer Rights Day every year with massive media coverage on problematic sales activities. This protest is seen as one of those marking the event.