China morning round-up: Fuel price increase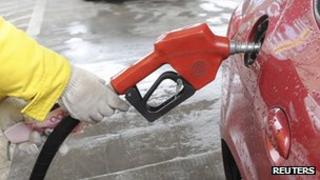 The secondfuel price adjustmentin a month, announced overnight, has caught the attention of almost every newspaper across China on Tuesday.
Decisions made by China's National Development and Reform Commission (NDRC) has led to a retail price hike for gasoline and diesel by 6.5% to 7%, says theChina Daily.
Gasoline prices have smashed the 8 yuan per litre ($1.27; £0.80) benchmark in both Shanghai and Beijing, according to theShanghai DailyandBeijing News.
In southern Guangdong province, the gasoline price has even reached the 9 yuan ($1.42; £0.90) mark, saysGuangzhou's Southern Metropolis Daily.
People's Dailyreports the NDRC's explanation of the latest price hike, including the rise in international market price for crude oil and China's increasing dependence on imported oil, while also laying out the government's relief measures for agriculture and public transport industries.
The Global Timessays the US media has branded the latest round of price hikes as an end to China's "anti-inflation campaign".
A commentary piecein the People's Daily says this latest fuel price rise, and the fact that the price of spring onions has sky-rocketed, has set off the alarm again.
In other news, People's Daily reportson its front pagean annual civil affairs conference in Beijing, attended by President Hu Jintao and Premier Wen Jiabao.
According to theChina Daily, Mr Wen called for increased efforts in developing China's civil affairs - which includes social welfare services and emergency relief - saying it has failed to satisfy people's expectations.
People's Daily also publishedan editorialto reiterate the appeal, saying that it is a major concern of the Beijing government.
BothChina DailyandPeople's Dailypublish reports saying cyber attacks on China launched from bases overseas have surged in 2011.
Among them, 22.8% came from Japan, with another 20.4% coming from the US.
Beijing Newsruns detailed reports on thesentencing of Forbidden City robber Shi Baikui. Shi has been sentenced to 13 years in prison by a Beijing court.
Although Shi Baikui has pleaded guilty and the court has said that it is a lenient sentence, his lawyer questioned why the judge has called his client's act a "particularly serious" crime, since it took place at an "unusual location".
The lawyer is suggesting the Shi should file an appeal, says theShanghai Morning Post.
Beijing Times' commentaryalso criticised the sentencing, saying that it lacked solid ground.
Also featured in Tuesday's papers is thelevel of embezzlementrevealed by a national audit report on the construction of the Beijing-Shanghai high speed railway.
Beijing News's editorialsuggests that the report has revealed loopholes in China's railway system, where the Ministry of Railways governs the network and runs the business.
The editorial of the Southern Metropolis Dailycalls for a serious review on the pace of China's high speed railway development to ensure safety comes first.