Organisers say Hong Kong mock poll 'under cyber attack'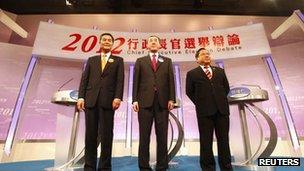 The organisers of a mock poll for Hong Kong's chief executive say their online system "is under cyber attack" to prevent voting.
Residents can vote online or by mobile phone in the publicly funded poll organised by Hong Kong University.
The actual vote on Sunday is to limited 1,200 election committee members, but the desire for universal suffrage is strong.
Henry Tang, CY Leung and Albert Ho are standing for chief executive.
The mock poll is organised by the university's Public Opinion Programme under pollster Robert Chung. It is open to any Hong Kong resident who is at least 18 years old.
"We have strong evidence to show our system is under cyber attack," a spokesman from the poll organiser told the BBC.
"This is affecting the online portion of the vote exercise, as well as our physical polling stations."
Mr Chung also told local media that hackers had attacked the website a few days ago, with one million clicks registered per second. He said the site could not be accessed early this morning.
The organisers were expecting 50,000 to 100,000 votes in total, but they got 10,000 just in the first three hours between midnight and 03:00 (4:00 to 7:00 GMT).
Mr Chung is urging those who want to participate to go to one of the polling stations to cast their votes.
One of the polling stations, Hong Kong Polytechnic University, has already resorted to paper ballots, according to the city's public broadcaster RTHK.