China morning round-up: Nuclear summit ends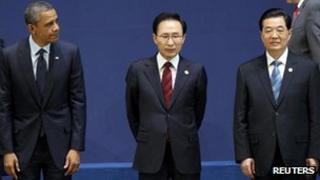 Wednesday's newspapers focus onthe conclusion of the nuclear security summitin Seoul as their top story.
China DailyandPeople's Dailyfocus on Chinese President Hu Jintao's address to the conference, in which he appealed for greater global co-operation.
Mr Hu said that by using a "scientific and sensible" approach nuclear security and energy could work in tandem.
Guangzhou's Southern Metropolis Dailysays the Chinese president also called for a comprehensive approach to wipe out sources of nuclear terrorism.
A People's Daily commentaryclaims Mr Hu's speech distinctly set out what it called "the Chinese approach". The speech also "boosted confidence" in developing nuclear power around the world.
As the Seoul summit drew to a close,China Dailyand others also began to play up the next leg of Hu Jintao's foreign visit.
Mr Hu is due to arrive in New Delhi for the annual Brics summit, with leaders from Brazil, Russia, India and South Africa also expected to attend.
People's Dailypublished an interview with Jim O'Neill, chairman of Goldman Sachs Asset Management, who first came up with the term "Bric".
The quartet invited South Africa to join in late 2010, and has been known as Brics since then. Mr O'Neill told People's Daily that the Brics countries were still full of potential for investors over the next decade.
The Global Times' English editorialsays the bloc of five's unity is not defined by any "unified values", but common benefits such as "oppression by developed countries" that they are all facing.
BothChina DailyandPeople's Dailyalso report on the meetingbetween Premier Wen Jiabao and Kofi Annan, the UN-Arab League envoy to Syria. Mr Wen reportedly pledged China's full support for Mr Annan's six-point peace plan.
China Daily's editorialsays: "The Western powers have finally come to terms with the reality that their aggressive approach toward the Syrian crisis will never win broad international support."
In other news,China Dailyand theGlobal Times' English editionreports Beijing's condemnation of Japan's decision to register an island near the disputed Senkaku Islands - known as Diaoyu Islands in China and Diaoyutai Islands in Taiwan - as a national asset.
The Global Times' Chinese editionalso reports on Taiwan's protest over Japan's decision.
On the other hand,People's Dailylashes out at Japan, the US and the EU for their recent filing of complaints to the World Trade Organisation concerning the issue of rare earths' export from China.
The article called the three parties "looters" who want to force China to sell rare earths cheap.
The Beijing Timesand others report on the latest statement from the Agriculture Ministry on therecent detention of 21 Vietnamese fishermenin a disputed area of the South China Sea.
The ministry claims that the sailors were practicing explosive fishing. The local fishery bureau has decided to fine each of them 70,000 yuan ($11,100; £6,960)
Wednesday is also China's official Tibetan Serf Liberation Day.China Dailyreports on the country's renewed warning to the Dalai Lama that "separatist efforts" will fail, whilePeople's Dailydetails what China claims are improvements to Tibetans' lives.