China dissident lawyer Gao Zhisheng 'allowed visit'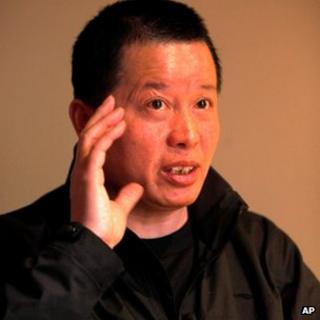 Prominent Chinese dissident lawyer Gao Zhisheng has been allowed a prison visit by relatives.
It is the first time in nearly two years that Mr Gao has been seen by family members.
The lawyer, who was sentenced to house arrest in 2006, was released briefly in March 2010 but disappeared soon after.
Chinese authorities revealed in December 2011 that he was being held in a Xinjiang prison, after he "seriously violated probation rules".
Mr Gao's older brother, Gao Zhiyi, told journalists that he met his brother, but it was "not convenient" for him to elaborate further.
Geng He, Mr Gao's wife, who fled to the US with their children, told Reuters news agency that Gao Zhiyi and her father met Gao Zhisheng on Saturday.
In the 1950s and 60s, political prisoners in China were often sent to Xinjiang, in western China.
Human rights activists previously said that imprisoning Mr Gao in the remote area was an attempt to deter visitors.
'Dead or alive'
Geng He said the 30-minute meeting took place at the Shaya County jail in Xinjiang's western prefecture of Aksu, under supervision.
"I said: 'Brother, why didn't you ask him... where was he staying? Where was he all the years before?" she told Reuters.
"His elder brother said: 'My main purpose of the trip is to determine whether he's alive or dead. The police will not allow you to ask so many things.'"
Gao Zhisheng was not allowed to talk about his whereabouts for the past two years, nor to talk about his treatment in prison, she added.
Gao Zhisheng, a 45-year-old attorney who has defended activists and religious minorities, is an outspoken critic of the Chinese government.
He was given a suspended sentence of three years in prison on charges of "inciting subversion of state power" in December 2006, with five years of probation.
After the sentence, Mr Gao was placed under house arrest.
Mr Gao's wife and two children sought asylum in the United States in early 2009. They are now living in California.
The US, European Union and United Nations have repeatedly called on Chinese authorities to release him.