China micro-blog comments back after rumour 'clean up'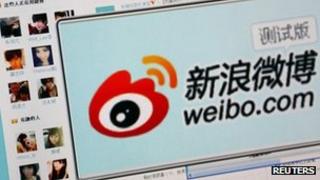 Services on two of China's biggest micro-blogging sites are back after being part suspended three days ago.
The companies that run the sites had stopped users commenting on other people's posts, following rumours of a coup in Beijing.
It was just one of a series of moves designed to quell the speculation.
The rumours gained some credibility because of a crisis currently being played out at the top of China's political system.
The services were suspended on Twitter-equivalent micro-blogging sites run by Sina and Tencent last Saturday morning.
This was done to allow a "concentrated clean-up" of comments about a coup, which had flown around the internet despite a lack of evidence.
Rumour 'hotbed'
The firms announced that services would resume on Tuesday morning - and they did, without announcement or fanfare.
But if the companies had hoped to kill speculation then they failed.
"Rumours fly because the truth is covered up," one internet user immediately wrote.
"China is a hotbed for rumours because there is no free press and no transparent system. This lures people into believing gossip," was another posting.
As well as a suspension of some micro-blogging services, the authorities took their own measures to curb speculation of a coup.
They arrested six people and closed down 16 websites.
An editorial on Saturday in the People's Daily, the mouthpiece of the Chinese Communist Party, laid out what the country's leaders think about some internet chatter.
"Internet rumours package lies as truths and change speculation into fact," read the comment piece.
But the rumours of a coup fell on fertile ground because China is in the midst of a genuine political crisis.
The Communist Party holds a once-in-a-decade reshuffle later this year and there is a battle over who will be promoted.
The former party chief of Chongqing, Bo Xilai, was sacked last month, despite previously being tipped for a top job. No proper explanation has been given for his removal.