'Smuggling kingpin' Lai Changxing on trial in China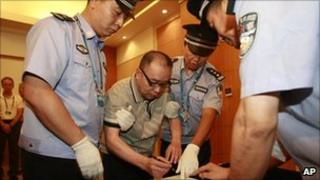 The alleged head of a multi-billion dollar smuggling ring in south-east China has gone on trial, Chinese state media say.
Lai Changxing is accused of bribing officials and smuggling goods including cars, cigarettes and oil in one of China's biggest political scandals.
He fled to Canada in 1999 and avoided extradition for 12 years by arguing he faced torture and execution in China.
Beijing promised Canada he would not be executed and he was deported in 2011.
Canada usually forbids the extradition of suspects to countries where they might face the death penalty, and the case severely tested diplomatic relations between the two countries.
China's state-run news agency Xinhua said Mr Lai had gone on trial at the Intermediate People's Court in the city of Xiamen, in Fujian province.
It is not clear how long the trial will last. He was formally charged in February 2012 after his deportation in July 2011.
Xinhua news agency said that it was an "open" trial and some of his relatives had been allowed in.
China accuses Mr Lai of running a huge smuggling operation in Fujian province from 1996 to 1999.
Officials say he dealt in up to $10bn (£6.3bn) worth of goods including cigarettes, cars, heating and cooking oil, textiles and chemicals.
Hundreds of senior members of the regional political establishment were implicated in the case, including customs, police and government officials.
Some 300 were punished for their involvement in the operation and at least two officials were executed.
The case has been a priority for Beijing, which has vowed to curb widespread corruption.