China names six Uighurs on terror list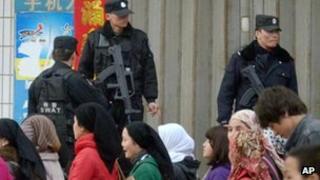 China's police agency has named six ethnic Uighurs in a list of militant suspects accused of inciting attacks in Xinjiang.
The Ministry of Public Security said the men were "core members" of an extremist group who had recruited and trained members.
China blames groups with links to al-Qaeda for unrest in Xinjiang, home to its Muslim Uighur minority.
Last month it sentenced a Uighur man to death over a deadly attack in Kashgar.
This is the third time since 2003 that China has published a list of terrorism suspects.
In a statement published on its website, the ministry said the named people belonged to the East Turkistan Islamic Movement, designated by the US and the UN as a terror group.
It accused the men - whose whereabouts are unknown - of funding and inciting violence, including suicide bombings.
Funds and assets that belonged to these men had been frozen, the statement said. It also specified that each of the men had spent time in other un-named southern, western or central Asian nations.
In a report, state news agency Xinhua said that the ministry hoped foreign governments would help arrest the men.
Local Chinese officials have blamed Muslim militants trained in Pakistan for various attacks in the restive region in recent years, while Beijing has refrained from public criticism of its neighbour.
Exiled Uighur groups and human rights activists say China overstates the threat posed by militants in Xinjiang.
Muslim Uighurs make up about 45% of the population of Xinjiang. Some say waves of Han Chinese immigration and heavy-handed government policies have marginalised their culture and traditions.
There has been tight security in parts of Xinjiang since July 2009 when ethnic violence in the regional capital Urumqi left some 200 people - mostly Han Chinese - dead.
Sporadic outbreaks of violence have continued. In February Chinese media reported that 16 people were killed in an attack in Kashgar by knife-wielding "members of a terrorist organisation".
An ethnic Uighur was subsequently sentenced to death.