Fang Lizhi, China dissident who inspired Tiananmen, dies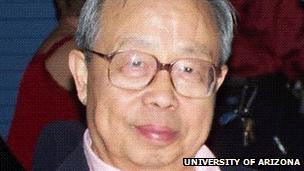 Chinese dissident Fang Lizhi, whose speeches helped inspire the Tiananmen Square protests of 1989, has died in the United States, aged 76.
Once China's leading astrophysicist, he was expelled from the Communist Party in 1987, accused of stirring up unrest.
He publicly supported the Tiananmen protests but played no public part.
After the crackdown on Tiananmen by the Chinese authorities, Mr Fang and his wife took refuge in the US embassy for a year before leaving China for good.
The couple feared they would face charges which carried the death penalty.
Despite Chinese requests, the Americans refused to hand them over, and in 1990, they were allowed to leave for the US.
The son of a postal worker, in the 1980s Mr Fang became vice-president of the University of Science and Technology of China in Hefei.
He was quoted as telling a student gathering that democracy was from the bottom-up, not the top-down.
He said of the Chinese Communist party: "Marxism is like a worn dress that must be put aside."