Old haunts gone as Beijing embraces building boom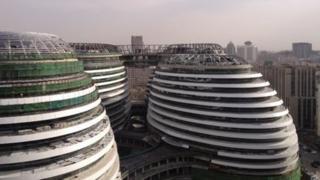 With its swooping curves and futuristic look, Galaxy SOHO is rapidly taking shape.
The 20-storey office complex is the latest addition to Beijing's skyline.
Teams of welders, electricians, and joiners are hard at work on the building, which is scheduled to be complete by the end of the summer.
It is the latest creation of SOHO China - a property development company that has a reputation for ambitious projects.
"I've been attracted to China for a long time," said Zaha Hadid, the world-renowned architect who designed the office complex.
She said the appeal of the world's second-largest economy was that it was possible to get projects off the ground.
"In Europe or America I don't think there's the will-power or audacity to do these projects. It's a very exciting market here."
As China's economy has boomed its skylines have soared.
At current rates of construction, the country can build a city the size of Rome every two weeks, according to the Economist Intelligence Unit.
With millions of Chinese pouring into the cities every year, the building boom is expected to continue.
"Urbanisation in China has happened so fast," said Zhang Xin, the co-founder of SOHO China.
"Before people realised everything was gone - new buildings had gone up and old ones were destroyed."
Hutongs vs skyscrapers
China is no stranger to destruction. During the Cultural Revolution 40 years ago, temples and historic homes were demolished, and artefacts were looted.
But in recent years there has been a new wave of demolition.
In the last decade more than half of Beijing's old neighbourhoods have been bulldozed.
The one-storey houses built around narrow alleyways - called hutongs - have made way for apartment buildings, shopping malls, and office blocks.
Some are asking whether China is sacrificing too much of its heritage in its race to modernise.
The latest area slated for demolition in the centre of the capital has a ghostly feel to it, with only a handful of people still living there.
Zhang Wei, who has spent the last decade documenting the demise of Beijing's old neighbourhoods, said the area had hundreds of years of history.
During imperial times some of the buildings served as barracks for soldiers. He said it was painful to watch it all disappear.
"As a Beijinger, I feel helpless about what's happening here," he said.
"This city carries our memories but now it's losing its soul. We always said that this was a city of culture - but now there's nothing left."
But there are pockets of preservation - some of old Beijing's old neighbourhoods are now major tourist attractions.
They have fancy restaurants, shops selling designer clothes, and little boutiques selling a variety of ornaments, including in one case a porcelain pig dressed in a Maoist military uniform.
"I like it here," said one Chinese tourist. "There is nothing like this is my home town."
But hard cash often trumps heritage in China.
The growing pressures of urbanisation and demands for a better way of life are leading to enormous change.
For Beijing, it is struggle to find the balance between the old and the new.