China morning round-up: Court ruling on demolitions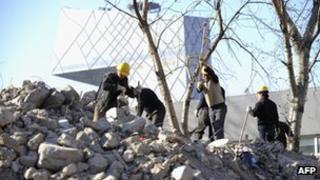 Tuesday's newspapers report a decree from China's Supreme Court saying demolitions not matched by fair compensation can be stopped.
China Daily,People's DailyandBeijing Newsreport that courts can turn down government requests to demolish housing if the compensation for residents is deemed unfair.
The Supreme Court judicial interpretation supplements the existing regulations on urban home demolition. The decree is effective from Tuesday.
China's rapid development has meant forced demolitions across many cities. These can cause public unrest, with residents complaining about poor compensation, use of excessive force during evictions and fears of government officials' collusion with developers for kickbacks.
The editorial in Beijing Newssays people are most concerned about whether the judiciary can "uphold justice and stop the use of violence" in demolition cases.
Guangzhou's Southern Metropolis Dailysays in its editorial that it is equally important for people to know their rights - to pick up a "legal weapon" to defend themselves with no need to fear consequences.
The move is reported on the same day a lawyer who helped residents fight forced evictions, Ni Yulan, was jailed. Her husband was also given a prison term.
The country'spush against internet rumourscontinued on Tuesday.Beijing Timessays a guild of online media operators has appealed for "law-abiding operations" among internet firms.
A commentary inShanghai Morning Postinsists that the introduction of "real name" rules for online forums and micro-blogging sites is the "cure" to the problem, citing similar examples from Western countries.
A second editorialin the Southern Metropolis Daily says it is a shared responsibility of the public and the government to boycott the spread of rumours, while a commentary in thePeople's Dailyclaims in its headline that "tolerating rumours is not a quality of democracy".
The Global Times' bilingual editorialalso take the chance to lash out at the power of the internet.
"The perception projected by internet opinions is quite far from the real situation. For example, online opinion holds that grassroots livelihoods are a mess in China," says the editorial.
"In addition, it states that reform has come to a standstill and public anger has boiled over to the extent that China could descend into chaos any time."
Also inChina DailyandPeople's Dailyis the meeting between Premier Wen Jiabao and visiting Turkish Prime Minister Recep Tayyip Erdogan in Beijing.
Beijing Timessays Mr Erdogan reiterated Ankara's commitment to the "One China Principle", and said he would not tolerate anyone conducting "anti-China separatist activities" in Turkey.
The Global Timesreports Mr Erdogan's stop-over in the restive Xinjiang region, while it also recalls the 2009 spat when Ankara criticised Beijing for its heavy-handed response towards ethnic Uighurs after the deadly 5 July riots.
Many papers also report on theMarch inflation rate released on Monday, withShanghai DailyandPeople's Dailyclaiming that although the recent rise of fuel prices has been made the scapegoat, food prices are the actual culprit for boosting inflation.