China morning round-up: More attacks on Bo Xilai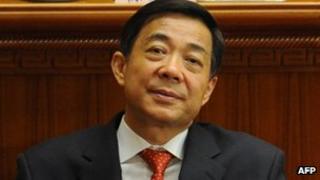 China's top state newspaper continues its coverage of embattled politician Bo Xilai, with more information on his alleged wrongdoing.
A third front page commentary in People's Daily urges people to obey the law and the Communist Party's discipline code.
The article - again reprinted in many regional papers - stresses China is a "socialist country ruled by law", and says "trampling the dignity and authority of law is strictly forbidden".
People's Daily continues with yet another report claiming "party members, cadres and the masses" are determined to protect China's stability and ongoing reforms "with concrete action", amid all the "noise and rumours".
It also carries a report from Xinhua News Agency which says the masses see Beijing's decision to remove Bo Xilai as a firm commitment to punish "corruption".
The Global Times comes with another bilingual editorial , which claims that "unity and diversity are key to China's future just like the importance of water and air to one's survival".
Commenting on the "unity" shown across the country in support of Beijing's decision on Bo Xilai, the editorial says: "There are voices against solidarity. They think society can develop its own balance as it diversifies."
"But this line of thought should not dominate policymaking."
China Daily and People's Daily Overseas Edition also report Beijing's crackdown on "internet rumours", seen as the consequence of Bo Xilai's removal.
Other than Bo Xilai, many newspapers actually lead their coverage with a shooting in Los Angeles in which two Chinese students were killed.
China Daily says some 1,000 people attended a candlelight vigil held at the University of Southern California to mourn the victims, who were post-graduate students in electronic engineering at the university.
Guangzhou's Southern Metropolis Daily reports on comments from classmates of the deceased, saying the female victim chose to live in the "less safe" neighbourhood off campus in order to save money.
Shanghai Daily says Chinese students at the university were not deterred by the incident.
Papers such as the Shanghai Daily and Beijing Times also report on the Philippines' decision to pull out a navy ship from the disputed Scarborough Shoal in the South China Sea, amid a stand-off with Chinese vessels.
A front page commentary in the People's Daily Overseas Edition criticised "Western officials" for "creating discord" between China and other countries in the region "intentionally".
In a second Chinese editorial , the Global Times says: "China could only take firm actions to defend its rights."
"Only through a few stand-offs and clashes could make Manila and Hanoi wake up to the reality that they need to have a more realistic attitude in handling disputes in South China Sea."