China morning round-up: Selling disputed islands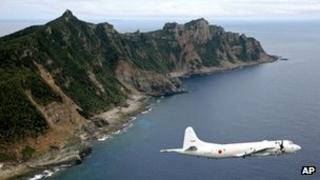 Newspapers react strongly to an apparent plan by Tokyo Governor Shintaro Ishihara to use municipal funds to buy a group of disputed islands.
The resource-rich island chain - known in Japan as Senkaku and in China as Diaoyu - are controlled by Japan, but claimed by China. They are reportedly in private Japanese hands.
China Daily and others report Beijing's protest over Mr Ishihara's comments.
"Any unilateral action taken by the Japanese side over the Diaoyu Islands and its affiliated islets is illegal and invalid, and will not change the fact that these islands belong to China," said Chinese Foreign Ministry spokesman Liu Weimin.
The Global Times says it reached the lawyer representing the current "landlord" who confirmed his intention to sell the island.
It also reports a commentary from Taiwan's United Evening News which appealed for "concrete action" from across the strait to regain control of the islands.
Taiwan also claims the island chain, which is known as Diaoyutai in Taiwan.
The bilingual editorial in the Global Times says: "The Diaoyu Islands are priceless. No matter how much Tokyo is willing to pay, it cannot buy islands belonging to China."
Its Chinese version adds one further line, saying it is Japan's "little dealings" which aim to "force China to swallow the tooth that was broken in the brawl". Such an act is "evil" and "naive", it says.
A commentary in the Beijing News , however, takes a milder look at Mr Ishihara's comments, saying that Chinese people have got used to his "ridiculous comments". What he said, it believes, is more like "political stand-up comedy".
Meanwhile, China Daily and Beijing Times trail upcoming joint naval exercises between China and Russia, which will take place in the Yellow Sea between China and Korean Peninsula.
People's Daily and others also report another drill between the US and the Philippines as Manila's row with Beijing over the South China Sea intensifies.
News related to the Bo Xilai scandal has not died down, with the People's Daily running yet another front-page article on "combating online rumours", and another article warning officials from abusing power sitting next to it.
Hong Kong newspapers such as Ming Pao Daily News report the meeting between UK Prime Minister David Cameron and China's Politburo member Li Changchun .
People's Daily , however, reports Mr Li's visit to the London Book Fair on Monday. This year's London Book Fair has a special focus on China, but it is criticised by exile Chinese writers for not inviting independent Chinese writers.