Hong Kong leader Tsang survives no confidence vote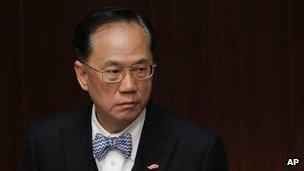 Hong Kong's outgoing Chief Executive Donald Tsang has survived a motion of no confidence in the city's Legislative Council (LegCo).
The motion was put forward by LegCo member Tanya Chan, who said Mr Tsang's links with tycoons had undermined confidence in Hong Kong's core values.
The motion was also seen as a message to Mr Tsang's successor, CY Leung.
This was the first no confidence vote brought against a leader since Hong Kong's handover to China in 1997.
The previously popular Mr Tsang has faced calls for his resignation after it emerged that he had accepted invitations to use private jets and yachts belonging to businessmen with commercial interests in Hong Kong.
This was seen as a sign of increasing collusion between government and big businesses - something that Hong Kong people were proud to have avoided in the past, says the BBC's Hong Kong correspondent Juliana Liu.
The motion is also intended as signal to Mr Tsang's successor, CY Leung, that the people of Hong Kong, civil servants, and a large part of law-makers will be watching him, she added.
Under Hong Kong's system of administration, half of LegCo's members are directly elected geographical representatives, with the other half elected into functional constituencies by special interest groups.
The no confidence motion was supported in LegCo's geographical constituencies by 14 to seven, with two absentions, but was rejected in the functional constituencies by 11 to four, with three abstentions.
Chris Patten, former British governor to Hong Kong, also faced a vote of no confidence in Hong Kong's Legislative Council in 1995, after members of Hong Kong's pro-democracy camp claimed that Mr Patten failed to adequately protect Hong Kong's legal system.
Related Internet Links
The BBC is not responsible for the content of external sites.