Does Chongqing miss former 'emperor' Bo Xilai?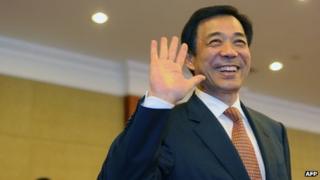 Chongqing has long been known in China for its hills and fog, but more recently the sprawling city of millions has been associated with one of the country's most charismatic and powerful politicians, Bo Xilai.
Many locals say that Mr Bo ruled the city - one of the fastest growing on earth - as if he was an "emperor."
The politician, who was the Communist Party's top official in Chongqing, built a power-base there that he hoped would propel him to even higher office.
But the death of British national Neil Heywood in the city triggered China's biggest political scandal in years.
Mr Bo's wife, Gu Kailai, is suspected of involvement in the businessman's death.
The scandal brought down Mr Bo, who was once tipped by many for a promotion during this year's once-in-a-decade leadership change.
Tipped for the top
In the city he once led, some are celebrating Mr Bo's demise. But many say they miss a man who inspired genuine affection.
Mr Bo put on an "extraordinary political show" during the five years he was in charge, says Zhu Zhiyong, a local commentator.
Mr Bo was a man who appeared to crave the limelight, in stark contrast with other senior politicians.
"From all walks of life, from top officials to street cleaners, everyone knew that he wanted to reach the top," said Mr Zhu.
"There was even talk that he might lead the country one day."
"Bo Xilai always gave the impression that he didn't mind people saying these things," the commentator added.
The media-savvy politician went out of his way to attract national attention, launching a controversial crackdown against organised crime in the city.
Critics now say that many businessmen were tortured during the campaign and that Mr Bo used it to crush political opponents.
Another policy was the so-called "red campaign", which aimed to generate nostalgia for the days of Chairman Mao.
But in the few short weeks since Mr Bo's downfall, there have been changes in the city.
Advertising hoardings promoting the politician's campaigns have been removed and daily TV broadcasts of Maoist songs replaced with programmes on Chinese culture.
'Helped people'
Mr Bo was a deeply divisive politician. Many of the city's middle classes intensely disliked his brand of politics, which they believed trampled over the rule of law.
"We were afraid to speak out when he was in charge," said one government official.
But with his populist agenda, such as projects to build affordable social housing, Mr Bo commanded huge support in the city.
He was seen as a can-do politician in a country where bureaucracy is perceived as a barrier to progress.
In 2008, he negotiated live on television with taxi drivers and their bosses to end a strike.
At one garage forecourt, drivers were full of praise for the politician.
"Being a woman, I was always worried about robberies and customers running off without paying," said 40-year-old taxi driver Peng Rong. "But Bo improved security in the city. I do miss him."
Another taxi driver said he hoped Mr Bo's successor continued to work for the people.
By championing social programmes, Mr Bo won strong support from those who had been marginalised during China's economic boom.
The political commentator, Zhu Zhiyong, said this should serve a wake-call for the party.
"Basically everyone in China believes officials are corrupt," he said. "But at least Bo Xilai did something for the people, so many here can forgive him for his errors."
China's leaders may have got rid of the man who led Chongqing in such a high-profile manner.
But the biggest challenges facing them remain the social issues that Bo Xilai tried to address.