China morning round-up: Maritime rows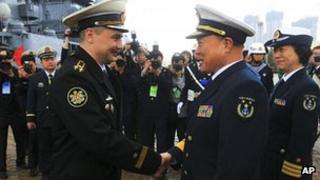 Tuesday's newspapers continue to focus on both the South and East China seas amid ongoing rows.
Papers including the Beijing News report that China has pulled out two of its fishery patrol boats from the disputed Scarborough Shoal in the South China Sea, which is known as Huangyan Island in China and Panatag Shoal in the Philippines.
Beijing Times says Manila has denied it has further deployed a battleship and anti-submarine aircraft, while the People's Daily blames Philippine media for "intensifying" the conflict.
Shanghai Daily and People's Daily also mention comments from Beijing's Foreign Ministry which denounced a call by the Philippines' Foreign Secretary Albert del Rosario asking for other countries to take a stand regarding the South China Sea disputes.
"It will only complicate and scale up the issue to ask other countries to take sides over sovereignty issues," said China's Foreign Ministry spokesman Liu Weimin.
Back in the eastern Chinese port city of Qingdao, People's Daily promotes an open house event co-hosted by the Chinese and Russian navies showing two of their warships to the public.
Hong Kong's Ming Pao Daily News reports on a strongly-worded commentary from the official PLA Daily, which lashes out at "Western media comments" that "bewitch" Moscow to remain on alert against Beijing.
In Europe, Premier Wen Jiabao has concluded his German tour, after he held formal talks with his counterpart Angela Merkel, as reported by the Beijing Times .
China Daily says German motor giant Volkswagen inked a deal to build another plant in China, witnessed by Mr Wen, this time in the western restive ethnic Uighur region of Xinjiang.
Before Mr Wen left the city of Hanover, he told a business conference that China and Germany could nearly double bilateral trade in the next three years, reports the Shanghai Daily , but the two countries must also improve their market access and combat protectionism.
In other news, People's Daily says Chinese President Hu Jintao met Kim Yong-il, international relations chief of the North Korean Workers' Party.
The Global Times trails the visit by South Sudan's President Salva Kiir to Beijing, amid ongoing tension with Sudan.