China morning round-up: Hu's South Sudan plea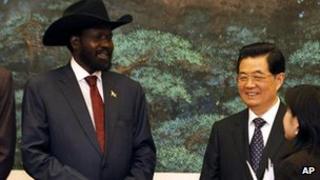 Wednesday's national newspapers focus on talks between Chinese President Hu Jintao and his South Sudanese counterpart Salva Kiir.
China Daily and People's Daily say Mr Hu told Mr Kiir that China wanted the fighting to stop and disputes to be settled by negotiations.
"The priority at the moment is to act in concert with international mediation efforts and stop military conflict along the border area," Mr Hu said.
China Daily's editorial also made the same plea.
"Both sides should exercise the utmost restraint and refrain from making reckless moves," it said.
"Khartoum and Juba should understand it serves neither side's interests if a full-scale war breaks out between them."
A joint naval drill in the East China Sea between China and Russia is also reported again in China Daily and the Global Times , as it enters the live-fire exercise stage.
Meanwhile, Beijing's dispute with Manila in the South China Sea is still going on.
Papers including China Daily and Beijing News cover comments made by Beijing's Foreign Ministry further criticising the Philippines' sovereignty claim over the Scarborough Shoal, known as Huangyan Island in China and Panatag Shoal in the Philippines.
The Global Times also says that Beijing's Defence Minister Liang Guanglie told the press that the Chinese military would decide whether or not to intervene in the South China Sea issue depending on Beijing's diplomatic needs.
A People's Daily commentary criticises Manila for sabotaging the Declaration on the Conduct of Parties in the South China Sea, which was signed between China and the Asean countries in 2002, saying the South China Sea is not a "rule-less adventure wonderland".
The bilingual editorial in the Global Times further warns China should not let the Philippines "dictate" the progress of the ongoing dispute.
"The Huangyan Island crisis reflects the recklessness and arrogance of the Philippines," it said. "China should use Huangyan Island crisis to bring shame on Manila this time."
China Daily , as well as regional papers ranging from Shanghai Morning Post to Guangzhou's Southern Metropolis Daily , all carry extensive coverage of the latest round of corruption trials of Chinese football executives.
During the 12-hour-long trial on the first day, Xie Yalong, former chief of the Chinese Football Association, denied allegations of bribe-taking. He also claimed he has been tortured during interrogation.
A Beijing Times commentary appeals for an end to corruption in Chinese football in order to rejuvenate the sport.