Bo Xilai scandal: Son Bo Guagua defends lifestyle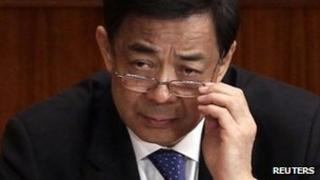 The son of disgraced Chinese politician Bo Xilai has defended his lifestyle in an open letter to his university.
In the letter to the Harvard Crimson, Bo Guagua said he was "deeply concerned" about his family.
He denied he was a bad student, citing his grades, and set out how his education had been funded.
The whereabouts of his father are unknown and his mother is being investigated in connection with the death of British national Neil Heywood.
The removal of Bo Xilai, who was once tipped for China's highest office, has become the country's biggest political scandal in years.
'Rumours and allegations'
Since Chinese authorities announced he had been sacked from his political positions earlier this month a stream of reports concerning him and his family have emerged.
Some reports have focused on the reportedly extravagant and well-funded lifestyle of his son, Bo Guagua, who is currently studying at Harvard University after completing his degree at Oxford.
Since the allegations against his family emerged, the 24-year-old has kept a low profile. But in the letter published on Tuesday on the Harvard Crimson website, he said he wanted to address recent media reports.
"I am deeply concerned about the events surrounding my family, but I have no comments to make regarding the ongoing investigation," he wrote.
"It is impossible to address all of the rumours and allegations about myself, but I will state the facts regarding some of the most pertinent claims."
His education, he said, had been funded by scholarships and his mother's earnings as a lawyer. His grades, which he cited, had earned him his university places.
While at Oxford University he had taken part in social events and extra-curricular activities - but these were a "regular feature of social life" at university.
In China, he said, he had never participated in a for-profit business. And he did not drive a Ferrari, he said, addressing a specific claim.
The Wall Street Journal reported last year that he had arrived at then US ambassador to China Jon Huntsman's residence to pick up his daughter in a red Ferrari.
"I understand that at the present, the public interest in my life has not diminished," Bo Guagua said.
"However, I wholeheartedly request that members of the press kindly refrain from intruding into the lives of my teachers, friends and classmates."
Benjamin Samuels, president of Harvard Crimson, told the BBC the statement came from Bo Guagua's Harvard's Kennedy School e-mail address, and that the team had then spoken to him via telephone to verify the statement was his.
Allegations against his parents emerged earlier this year after Chongqing's police chief, Wang Lijun, fled to the US consulate in an apparent bid to seek asylum.
Chinese state media said Mr Wang, who was once Bo Xilai's right-hand man, had information concerning the death of British businessman Neil Heywood, who died in a Chongqing hotel in November 2011.
Mr Bo's wife, Gu Kailai, is now being investigated in connection with the case, amid unconfirmed media reports that Mr Heywood was poisoned.
The 10 April statement from Xinhua news agency that announced the investigation into Gu Kailai also linked Bo Guagua to the case.
Gu Kailai and Bo Guagua "were in good terms with Heywood. However, they had conflict over economic interests, which had been intensified", the report said, without elaborating.
Bo Xilai has not been seen in public since his sacking was announced. It comes with China due to begin its once-in-a-decade leadership change in October.