EU urges China 'restraint' over activist Chen Guangcheng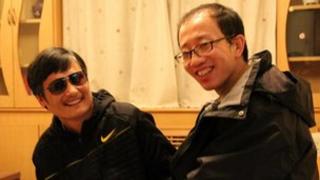 The EU has urged China to "exercise utmost restraint" in the case of Chen Guangcheng, the activist who fled house arrest last week.
China should avoid "harassment of his family members or any person associated with him", it said, amid reports that some close to him had been rounded up.
Activists have claimed that Mr Chen is at the US embassy in Beijing, but the US has so far refused to confirm this.
The US secretary of state is due to visit China for talks on Wednesday.
China and the US are suspected to be in extremely delicate negotiations over his fate, but there has been no official confirmation.
Mr Chen is believed to have escaped the house where he was being held more than a week ago, but it only came to light at the end of last week.
Mr Chen was placed under virtual house arrest in 2010 after spending more than four years in jail for disrupting traffic and damaging property.
EU call
"We are following closely events surrounding Chen Guangcheng's escape from house arrest..." said the Delegation of the European Union to China in its statement.
"Human rights defenders should be treated in full compliance with Chinese laws and constitution.
"We call on the Chinese authorities to exercise utmost restraint in dealing with the matter, including avoiding harassment of his family members or any person associated with him."
Several people involved in Mr Chen's escape have been detained or have disappeared in recent days, and fellow activist Hu Jia has been questioned.
Mr Chen has long been a high-profile figure and international rights groups have frequently expressed alarm at the treatment of him and his family.
US state department official Kurt Campbell is in the Chinese capital on an unscheduled visit.
He was photographed at a hotel, but in an indication of just how sensitive the issue is, the US embassy will not even confirm he is there, the BBC's Micky Bristow in Beijing says.
Mr Campbell is thought to be in discussions with the Chinese authorities about what to do with the blind activist, our correspondent says.
Analysts say the issue will be highly sensitive for both sides, and not easy to resolve.
The Americans have repeatedly raised Mr Chen's case with China on human rights grounds. But Secretary of State Hillary Clinton has also said human rights should not get in the way of working with China on global challenges.
But her impending trip to Beijing is likely to be overshadowed by the activist's fate.
Dramatic escape
Mr Chen exposed how local authorities in Linyi, Shandong province, forced thousands of women to have abortions or be sterilised as part of China's one-child policy.
His colleagues said last Sunday's escape had taken months to plan, and was carried out with the help of a network of friends and activists.
He scaled the wall that the authorities had built around his house, and was driven hundreds of miles to Beijing, where activists say he stayed in safe houses before fleeing to the embassy.
If Mr Chen is in the embassy, his case will raise memories of an incident in 1989 when another prominent activist, Fang Lizhi, fled to the US mission in Beijing.
He remained there for more than a year while the two sides attempted to broker a deal.