Chen Guangcheng's support network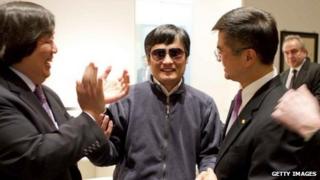 Rights groups have raised concerns for key figures close to Chinese activist Chen Guangcheng and those who may have helped him.
People involved in his escape and his family members are reported to have been detained or had their movements restricted in recent days.
Mr Chen has expressed concern for his family in Shandong province and his supporters in the wake of the escape, which one friend described as nothing short of a miracle.
Escape from house arrest
The story of Mr Chen's escape from house arrest on 22 April is being pieced together from various accounts.
Supporters said Mr Chen pretended to be sick in the weeks before his escape to distract security personnel guarding his house in Dongshigu village, in eastern China's Shandong province.
Beijing-based activist Guo Yushan told Reuters news agency that Mr Chen then slipped out, saying he "had to climb over eight walls" and walked for 19 hours "until he crossed a stream and finally escaped".
"His right foot strained so he could barely stand," he said.
Mr Chen made it to a previously agreed place where another supporter, He Peirong (also known as Pearl Her) from Nanjing, picked him and drove him to Beijing on 23 April.
According to the New York Times newspaper , his supporters made him sleep at different apartments each night for his safety. But his foot injury made them decide to seek assistance from the US Embassy in Beijing.
An arrangement was made to pick up Mr Chen in an embassy car and bring him to the US Embassy, even as two Chinese security cars followed behind, the newspaper reported.
But the US embassy has not commented on how it came to house Mr Chen.
He left the embassy after six days to seek medical treatment and meet his family. But he wants to go to the US, where a university has offered him a place to study.
Cheng Guangcheng's relatives
Chen Guangcheng's elder brother, Chen Guangfu, was reportedly detained after a group of men broke into his home following the escape.
His son (Chen Guangcheng's nephew) Chen Kegui was said to have brandished a knife at the intruders in self defence, before calling the police to surrender.
The youngest Mr Chen told a blogger who reached him by phone that the men came in unmarked vehicles and surrounded his home.
He has since been detained and is now reportedly facing murder charges.
Liu Weiguo, the lawyer for Chen Kegui, told the BBC that his client was acting in self-defence when he injured three people - none of them critically - who broke into his house on 27 April.
Chen Guangcheng's mother, believed to be about 80 years old, is said to be under house arrest. She lived with him and his wife.
In a video released shortly after his escape, Mr Chen said that his elderly mother had been beaten and put under constant surveillance.
Speaking to the US Congress by phone on 15 May, Mr Chen accused local authorities of ''a pattern'' of harassment against his family in his hometown in Shandong province.
He Peirong (also known as Pearl Her)
Rights activist Pearl Her said she drove Mr Chen to Beijing after his escape.
She was also instrumental in drawing global attention to his flight, posting a tweet about it and speaking to the media, before she was reportedly taken from her home in Nanjing.
The blogger, who has been at the forefront of campaigning for Mr Chen's freedom, went missing on 27 April.
In a BBC interview on 4 May she said she had been detained by the authorities in a hotel for a week.
She said she was watched constantly by police, but that "they were very polite".
She compared Chen's escape to the film The Shaw shank Redemption, adding that it showed "some birds cannot be caged".
Guo Yushan
Guo Yushan is another activist said to have helped Mr Chen after he reached the Chinese capital. Like Ms Her, he has also been a long-time advocate for Mr Chen's rights and freedom.
He told the media that the escape was a "miracle" of planning and endurance.
He was subsequently arrested and interrogated for more than 24 hours by Chinese authorities, but released on 30 April.
Hu Jia and Zeng Jinyan
Political activist Hu Jia and his wife, Zeng Jinyan were part of a group of supporters who met Mr Chen after he arrived in Beijing.
Mr Hu, known for his work in HIV/AIDS and environmental activism, was himself released from jail last year. He served a three-and-a-half-year sentence for "inciting subversion".
He has not been contactable on his mobile since 2 May, said an AFP news agency report.
Mr Hu won the European Union's top human rights award, the Sakharov prize, and is considered by Amnesty International a former prisoner of conscience.
On 3 May, Ms Zeng said in a Twitter posting that she had been placed under house arrest. The authorities told her, she said, that she would not be able to go out again.