Viewpoint: Why US and China need a deal on Chen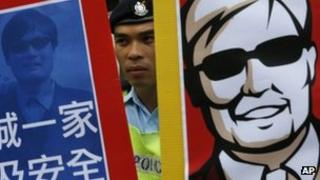 The Chen Guangcheng case has created a crisis for Beijing and Washington.
For the Chinese government, the case has further intensified the elite power struggle provoked by the still unfolding saga of former Chongqing leader Bo Xilai.
Moreover, Mr Chen's request for protection from the US Embassy has again drawn international attention to the abuse of human rights and the lack of rule of law in China. All these have shaken the very legitimacy of China's political system.
To Beijing, a quick solution is necessary not just to save face, but to prevent it from escalating into a massive movement against the Communist Party's rule.
But the case also poses a formidable challenge to the US government, which has tried to maintain a workable, if not good, relationship to deal with a wide range of issues - from Pyongyang's nuclear weapons programme to global financial stability - that are critical for global peace and development.
President Barack Obama's prospects in the upcoming presidential election would be substantially damaged by either an economic slowdown or an oil crisis. China's co-operation is necessary to sustain the US economic recovery and prevent an explosive crisis over Tehran's nuclear ambitions.
Mr Chen entered the US Embassy in Beijing a few days before the US-China strategic and economic dialogue, led by Secretary of State Hilary Clinton and Vice Premier Wang Qishan.
Neither Beijing nor Washington could afford to let this indispensable dialogue be hijacked by Mr Chen's case at the time when both sides are gearing up for the upcoming leadership transition or the presidential campaign.
Thus it is ironic but revealing that Washington and Beijing found themselves in the same boat: They need to find a quick solution so that Mr Chen could exit the ongoing tangle between the two giants.
Leadership divisions
The fact that a US team, led by Assistant Secretary of State Kurt Campbell, immediately went to Beijing to talk to a Chinese team, led by Vice Foreign Minister Cui Tiankai, indicates that both sides took the issue seriously and were determined to solve it through silent diplomacy.
It turned out that a seemingly win-win deal was achieved after intensive negotiations behind closed door.
Mr Chen left the US Embassy on "his own decision", with a promise that he would be reunited with his family, that their safety would be guaranteed and that he would stay outside Shandong, his home province, as a "free man" and study law in a Chinese university.
But it was not to be. Immediately after Mr Chen checked in to the hospital in Beijing and met his wife and children, the situation evolved in a direction that could lead to a nightmare for both the CCP regime and the Obama administration.
First and foremost, the Chinese leaders are obviously not on the same page over this issue.
While President Hu Jintao and his associates tried to cut a deal, the other leaders' priority is to continue to silence Mr Chen and his friends with coercive measures that violate even Chinese laws.
Not long after Mr Chen stepped into the hospital, he and his family were isolated from the outside world and deprived of freedom. Facing mounting pressure and spin, Mr Chen allegedly changed his mind and asked to go to America with his family.
This has dramatically changed a win-win deal into a chaotic situation in which people with different interests and agendas are trying to direct the show.
For now the Chinese authorities have said Mr Chen could apply to study in the US - potentially opening a window for a resolution.
Big picture
Although it is hard to predict the final outcome of this evolving case, this is obviously not good news for the Obama administration, which is already being attacked by forces from both left and right.
While the human right groups are deeply frustrated, conservatives such as Mitt Romney wasted no time to label the case "a day of shame" for Mr Obama.
For Beijing, the unfolding events have further exposed leadership divisions and, more importantly, the nature of China's political system, in which policy is made behind closed doors, political participation is oppressed, and the rule of law is a façade under which human rights are violated.
But it is important not to be distracted by internal political plays in both Washington and Beijing and lose sight of the big picture.
China is at a crossroads of political reform; and the widespread concern and protests among the Chinese people over the Chen Guangcheng case demonstrate that this can be the turning point in the nation's political development.
It is in this regard that the Chen Guangcheng case can exert a far-reaching impact on China's transition towards democracy.
Dr Huang Jing is Director of the Centre on Asia and Globalisation at the Lee Kuan Yew School of Public Policy at the National University of Singapore. He is an expert on Chinese politics, foreign relations and security issues.