China bangs the war drum over South China Sea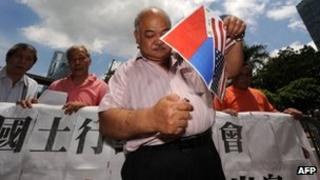 War talk, it seems, is all the rage in China at the minute.
Yes, there are serious people in serious publications seriously advocating war.
You might have missed it during all the fuss about Chen Guangcheng, but, for a month now, China has been embroiled in an increasingly bellicose dispute with the Philippines.
So what is going on? Well, strange as it may seem, the two stories may be connected.
At the heart of the issue is what is called Scarborough Shoal by the Philippines and Huangyan Island by China, a little more than 100 miles (160km) from the Philippines and 500 miles from China.
The names are a bit misleading because this is a series of rocks, reefs and small islands stretching across an area of about 150sq km (58 sq miles) of the South China Sea, claimed by both the Philippines and China.
You can see what one "island" looks like here, a screenshot taken from a Chinese TV report yesterday - that is the reporter posing on the rock, and then planting the Chinese flag on it, which gives an insight into the way the issue is being played by China's media.
For a month now, there has been a standoff between Chinese and Philippine fishing and coastguard vessels near the outcrops.
The Global Times, a highly nationalistic English language paper produced by the Communist Party's People's Daily Group, has a useful map that shows how far China's territorial claims extend, on this special page it is now devoting to this 'conflict'.
On Tuesday, China's Vice Foreign Minister Fu Ying summoned a Philippine diplomat for the third time in this standoff, and delivered a warning, that China has "made all preparations to respond to any escalation of the situation by the Philippine side".
On Wednesday, the Global Times helpfully explained in its editorial that Ms Fu's "remarks are seen as China sending a sign that it will not rule out the use of force".
The paper explained: "The Philippines needs to be taught a lesson for its aggressive nationalism. For China, the standoff over Huangyan Island is a matter of sovereignty. And now Manila needs to be defeated in this area... If the standoff escalates into a military clash, the international community should not be completely surprised".
For China, sovereignty is one of the key issues it says it will not compromise on, so it is sending strong signals but also boxing itself in.
Unlike the Chen Guangcheng case, which has been heavily censored, China's internet is full of coverage of this story (for a taste, here is the special page created by sohu.com) which says China's sovereignty has been challenged and the Philippines is creating problems.
So it is fair to believe all this coverage is officially approved.
The odd thing here is that the Philippine navy consists of just one proper ship and that is an ancient US Coast Guard cutter which is hardly a match for China's navy, as this online commentary by "The Comparativist" makes clear.
The Comparativist writes: "I think this is happening because the Philippines is so weak. The Chinese government can beat the war drums all they want, and as loud as they want, and no war is going to happen. It's akin to bullying someone in a wheelchair that you know can't punch back."
That's one possibility. China, and its foreign ministry in particular, have been at the receiving end of intense criticism recently, whether over the Chen Guangcheng case or the Bo Xilai scandal.
So building up a row with the Philippines may be a way of trying to look tough, distract public attention, and hype a bit of nationalist fervour.
But there are dangers here too. The president of the Philippines has tweeted this statement this week, making clear that the Philippines believes America will help protect it from any Chinese aggression. So a dispute could lead to a very tense situation.
China's policy in the South China Sea is not a simple matter, directed clearly from the top as the International Crisis Group has detailed, but affected by many different players.
And now we have more escalation. China is now piling commercial pressure on top of the diplomatic and military pressure, halting tourism to the Philippines, tightening inspections of fruit imports and warning its citizens to be careful of their safety during demonstrations planned for Manila on Friday.
It's a dangerous dynamic that could escalate much further yet. We will keep watching.