China morning round-up: Tri-nation trade deal hailed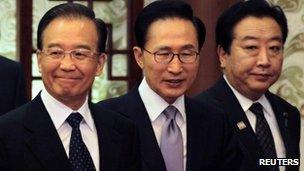 Newspapers hail the deal reached by leaders from China, Japan and South Korea to launch talks on setting up a regional free trade agreement.
"The establishment of an FTA will unleash the economic vitality of our region and give a strong boost to economic integration in East Asia," said Chinese Premier Wen Jiabao, as quoted by the People's Daily and Shanghai Daily .
A front page commentary in the People's Daily Overseas Edition says citizens in the three countries will see benefits from the trilateral co-operation.
Shanghai Morning Post also reports that the three leaders unanimously opposed a possible nuclear test by North Korea.
China Daily says that the FTA, if realised, could also help to ease regional tension and possibly lead to better integration.
But the Global Times says foreign media cast doubt on that, because of the various conflicts existing between the three nations.
Over the weekend, British newspaper the Financial Times reported that Mr Zhou had handed over overall control of China's police, courts and spy networks to Minister of Public Security Meng Jianzhu.
The newspaper said Mr Zhou was being sidelined because of his lobbying on behalf of purged Chongqing party chief Bo Xilai.
Meanwhile, the Global Times runs a bilingual editorial which rejects the Dalai Lama's recent claim that he has been warned of possible assassination plots by Beijing.
The Dalai Lama told the Sunday Telegraph in Britain that Chinese agents had trained Tibetan women for a mission to poison him while posing as devotees seeking his blessing.
"Why did the Dalai Lama decide to openly speak of this unconfirmed information?" asked the Global Times editorial. "In fact, some of the rumours related to Tibet originated from the Dalai Lama."
Related Internet Links
The BBC is not responsible for the content of external sites.