China rejects Dalai Lama 'assassination plot' report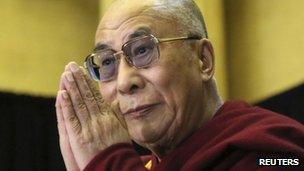 China has denied claims that it hatched a plot to kill the Dalai Lama by sending female agents to poison him.
A foreign ministry spokesman said the accusations were "groundless".
The denial came after the Dalai Lama told a newspaper that he had received unconfirmed reports of an elaborate assassination attempt on his life.
China has long accused the Dalai Lama of trying to split Tibet, with its separate culture and language, from the rest of China.
Speaking at a regular press briefing, Chinese foreign ministry spokesman Hong Lei said the Dalai Lama was spreading rumours to attract public attention.
"His sensational allegations are not even worth refuting," he said, before calling them groundless.
The spokesman added: "Wearing a religious cloak, the Dalai Lama has been engaged in international anti-China separatist activities."
The Chinese newspaper the Global Times went further, calling the allegations mind-boggling.
"The assassination plot told by the Dalai is more like something you would find in a martial arts novel. Revealing such unreliable information, the Dalai appears to have become mixed up in his old age," it wrote.
He replied: "Oh yes. In the hair poisoned and scarf poisoned. So they say they're sick, supposed to seek blessing from me. And my hand touch. That kind of information we received."
He added that this information could not be cross-checked.
The Dalai Lama, the spiritual head of Tibetan Buddhism, fled his homeland in 1959 after a failed uprising against Chinese rule.
He now lives in Dharamsala in India, travelling the world to seek support for more rights for Tibetan people. China regularly vilifies him.