Carr: China concerned by Australia-US military ties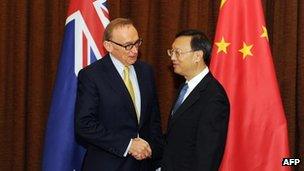 China has raised concerns over growing military ties between Australia and the US, Australian Foreign Minister Bob Carr said as he visited Beijing.
Chinese officials had told him that "the time for Cold War alliances has long since passed", he told reporters.
The US has recently started rotating troops through bases in Australia.
On Monday Mr Carr met counterpart Yang Jiechi. He is also due to meet Vice Premier Li Keqiang to discuss a China-Australia free trade deal.
China is a major trading partner for Australia and about a quarter of all Australian exports now go to China.
But Australia's key security partnership is with the US. Last month the first contingent of some US marines to be stationed in Darwin arrived; the US will eventually deploy a 2,500-strong force in northern Australia by 2017.
This is Mr Carr's first trip to China as foreign minister. He took over the top diplomat role from Kevin Rudd two months ago.
Mr Carr said his three high-level meetings on Monday - including the one with Mr Yang - were dominated by questions over Australia's growing alliance with the US.
"In each case they raised the issue of Australia's increased defence ties with the United States," Mr Carr said.
"I think their view can be expressed as in the words of one of the three I spoke to, I'm sure it was the foreign minister, that the time for 'Cold War alliances' has long since passed."
Australia's view, he said, was that the US presence in the Asia-Pacific region had helped underpin stability. But he stressed that both Beijing and Canberra would like to see more co-operation in defence.
''Defence co-operation is a confidence-building mission,'' he said. ''The more we understand about one another's approach to defence, the less likely we are to misinterpret what the other side does."
Mr Carr also discussed consular cases involving Chinese-Australians who have been jailed in China recently, reports said.
The response he received, he said, was that China ''does not recognise dual citizenship''.