China morning round-up: Uighur talks in Tokyo opposed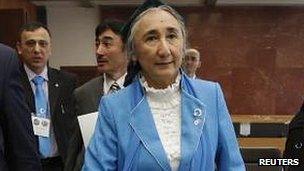 China has heavily criticised Japan's decision to allow an organisation of Uighur exiles to meet in Tokyo, newspapers report on Tuesday.
Papers ranging from China Daily to the Global Times cover reaction from Beijing's foreign ministry, as it lodged a strong protest over the World Uighur Congress meeting and subsequent visit to the controversial Yasukuni Shrine by the group's leader, Rebiya Kadeer.
"We express our strong dissatisfaction over Japan's permission for the separatist World Uighur Congress meeting and its engagement in anti-China activities in disregard of our firm opposition," said China's foreign ministry spokesmen Hong Lei.
Mr Hong also described Rebiya Kadeer's visit to the Yasukuni Shrine as a symbol of collusion between "anti-China separatists" and right-wing activists in Japan, an act that will be "cast aside by Chinese daughters and sons in and out of China, including ethnic Uighur compatriots".
Beijing Times and others also report on "multiple evidence" that proves the World Uighur Congress' role behind the Urumqi riots in July 2009. About 200 people, mostly Han Chinese, were killed in the ethnic rioting.
The foreign ministry's comments on Monday came just after President Hu Jintao met visiting Japanese Prime Minister Yoshihiko Noda and South Korean President Lee Myung-bak, as reported by the People's Daily .
Analysts believe that the Uighur meeting in Tokyo, as well as a fierce debate between Mr Noda and Chinese Premier Wen Jiabao over the disputed East China Sea islands of Senkaku - also known as Diaoyu in China - are two major reasons behind the cancellation, reports say.
Meanwhile, Shanghai Morning Post says Tokyo is strongly hoping for Mr Hu to accept an invitation for a state visit to Japan.
Beijing's foreign ministry has also commented on the incident again, with the annual South China Sea fishing moratorium imposed by Beijing due to begin on Wednesday.
Spokesmen Hong Lei said that the fishing ban - which will include the Scarborough Shoal, known as Huangyan Island in China - has nothing to do with the ongoing spat, Shanghai Morning Post reports.
Beijing Times , however, reports that China will press for law enforcement action against any Filipino fishing boats fishing in the area.
Also on Tuesday, Beijing News and the Global Times report the Chinese capital has launched a 100-day crackdown on illegal immigrants.
A bilingual editorial in the Global Times urges the Chinese government to take swift actions against illegal immigrants.
However, the editorial also warns that "mishandling this problem may lead to diplomatic friction".
"China is a friendly country, and should avoid misunderstanding from other countries when fighting against illegal immigrants," it said.
Related Internet Links
The BBC is not responsible for the content of external sites.