Activist Chen Guangcheng in second US Congress call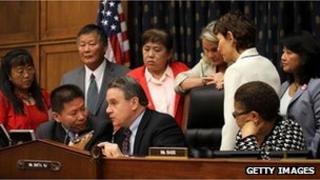 Activist Chen Guangcheng has called the US Congress for a second time, accusing local Chinese authorities of harassing his family in Shandong province.
The Chinese dissident told the hearing that ''trumped up'' murder charges had been brought against his nephew.
Meanwhile the US state department said visas for Mr Chen and his family to travel to the US were ready.
Mr Chen, who spent six days at the US embassy in Beijing last month, is waiting for Beijing to let him leave.
He told the BBC last Friday that no progress had been made in his passport application.
The blind dissident escaped house arrest last month, made his way to Beijing and then stayed in the US embassy for six days.
He left the embassy but then said that he wanted to go to the US because he feared for his safety.
Amid a diplomatic crisis between the US and China over his fate, Mr Chen was offered a place to study law at New York University after Beijing said he would be allowed to apply to study abroad.
But it is not yet clear when he and his family may be able to travel.
'A pattern'
Mr Chen first spoke to US lawmakers over the telephone two weeks ago to plead for help to leave China with his family.
Speaking to Washington again from the hospital in Beijing where he had been staying since leaving the US embassy, Mr Chen said local authorities in his hometown in eastern China were seeking revenge through the "trumped-up" murder charges against his nephew, Chen Kegui.
Liu Weiguo, the lawyer for Chen Kegui, told the BBC last week that his client was acting in self-defence when he injured three people - none of them critically - who broke into his house on 27 April.
One of those who broke into Chen Kegui's house was the head of Shuanghou town, Mr Liu said.
"This is a pattern," Chen Guangcheng told a hearing of the House Foreign Affairs Subcommittee on Human Rights, with US-based activist Bob Fu translating. "This is not the first time it happened against my family."
Mr Chen, a self-taught lawyer who campaigned against forced abortions under China's one-child policy, was himself jailed for four years in 2006 for disrupting traffic and damaging property, and placed under house arrest after his release in 2010.
On Tuesday, US state department spokesperson Victoria Nuland told reporters that Mr Chen, his wife and children could travel to the US once Beijing grants permission.
"We are ready when he and his government are ready," she said.