China veterans urge sacking of politician Zhou Yongkang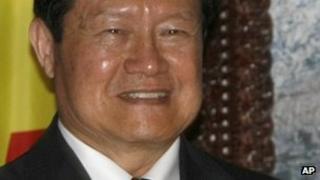 A group of veteran Communist Party members in China have written to President Hu Jintao to ask him to sack leading politician Zhou Yongkang.
Mr Zhou is currently in charge of China's security apparatus.
In an open letter to President Hu, the party's general secretary, the veterans suggest Mr Zhou is part of a movement to revive the China of Mao Zedong.
Speculation has been growing about the future of Mr Zhou since the downfall of another top politician, Bo Xilai.
It is not often that party members make such a daring plea to their boss.
The letter urges the president to sack Mr Zhou from his post as head of China's police force, its courts and its spy network.
He is also a member of the standing committee of the Chinese Communist Party, the country's highest decision-making body.
The letter's authors, who all know each other, also want him out of that job too.
Veteran members
Some of the veteran party members who wrote the note joined the Chinese communists before they took power in 1949.
They hold no senior positions - and do not seem to be particularly influential.
But one of the authors, Yu Yongqing, told the BBC that they had received hundreds of calls of support, and some threatening ones.
Mr Yu, who held a senior position in the party in the city of Zhaotong in Yunnan province, said Mr Zhou had to go because of his support for Bo Xilai.
Mr Bo was recently sacked from his position in the party's politburo and as party secretary of the city of Chongqing, where he led a campaign that sought to revive interest in the Mao Zedong era.
"Mr Bo confessed that he has received support from Zhou Yongkang. Mr Zhou also helped him to make contact with various central party departments," said Mr Yu.
The letter seems to warn about the dangers of reviving an interest in Chairman Mao and his policies.
It stresses the danger China faces from such things as corruption and the inequality of wealth without political reform.
For weeks there has been speculation about the future of Mr Zhou.
There has been no official comment, but this letter shows there is some concern about Mr Zhou within the party.
The letter also calls for the sacking of Liu Yunshan, the head of the party's propaganda department.
He has been tipped for promotion later this year when the party holds a once-in-a-decade reshuffle of its top leaders.