Activist Chen Guangcheng says passport application done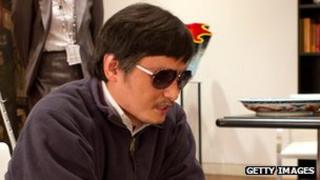 Dissident Chen Guangcheng says he and his family have completed passport applications and officials say they should be ready within 15 days.
The blind activist told the BBC officials had helped him fill in the forms on Wednesday at the Beijing hospital where he is staying.
Mr Chen spent six days in the US embassy last month after escaping house arrest.
He wants to leave China and has been offered a place at a US university.
Mr Chen left the US embassy after six days to seek medical treatment but then said that he wanted to go to the US because he feared for his safety.
Amid a diplomatic crisis between the US and China over his fate, Mr Chen was offered a place to study law at New York University after Beijing said he would be allowed to apply to study abroad.
The US says the visas for Mr Chen and his family are ready.
'Trumped up' charges
Mr Chen said government officials came to see him on Wednesday and completed passport applications for him, his wife and their two children.
He said the officials told him the passport would take 15 days to issue, without giving a definite date.
"People from the immigration administration department have been here. We had our pictures taken and forms filled out. (They said) within 15 days," Mr Chen said.
"They didn't promise when we'll get the passport. They didn't say anything like we will definitely get the passport on a certain day, etc. There was nothing like that told to us," he added.
He told the BBC he was well, but said doctors had told him he still should not walk because of the foot injury he sustained escaping from house arrest.
He and his family are living in the hospital room, and his wife said she was not allowed to leave the hospital freely.
On Tuesday Mr Chen accused local Chinese authorities of harassing his family in his hometown of Dongshigu village, as he spoke via telephone to a US congressional committee.
His nephew, Chen Kegui, has been charged with "intentional homicide" in the wake of Mr Chen's escape to Beijing.
Liu Weiguo, the lawyer for Chen Kegui, told the BBC last week that his client was acting in self-defence when he injured three people - none of them critically - who broke into his house on 27 April.
Chen Guangcheng, a self-taught lawyer who campaigned against forced abortions under China's one-child policy, was himself jailed for four years in 2006 for disrupting traffic and damaging property, and placed under house arrest after his release in 2010.