Convicted Chinese businesswoman Wu Ying given reprieve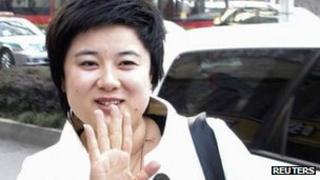 A Chinese businesswoman who originally received a death sentence for fraud has now been given a two-year reprieve.
This means that she is likely to receive life imprisonment instead of the death penalty.
Wu Ying's death sentence was overturned by China's supreme court in April and she has now been re-sentenced by her home province of Zhejiang.
Her death sentence had sparked thousands of appeals for clemency online.
Wu Ying was arrested in 2007 and found guilty of cheating private investors out of 380m yuan ($60m; £38m).
In 2009, she was sentenced to death for illegal fundraising.
Private fund-raising is illegal but common in China, and Wu's supporters had said that corrupt Communist Party officials often escaped punishment.
Wu technically still faces the death penalty, but the two-year reprieve means it will probably be commuted to a life term if she is deemed to have reformed.
Wu, who was raised in a rural area in Dongyang in Zhejiang, opened a hair salon while in her teens in 1997, and went on to establish a business empire.
Her business included the Zhejiang-based Bense Group, which runs hotels, wedding planners, laundry shops, a logistics company and other investments.