China morning round-up: Reprieve for Wu Ying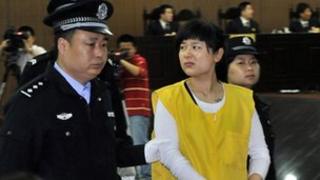 The decision to change the death sentence handed down to businesswoman Wu Ying leads the news on Tuesday, but most newspapers run identical reports.
Wu Ying was found guilty of fraud, and sentenced to death in December 2009. But after public concern, she was given a one-day retrial which resulted in a two-year reprieve, meaning she will likely serve life.
She has also been deprived of political rights for life and all her private property has been confiscated.
China Daily , Shanghai Morning Post and many others carry reports either on their front pages, or trailed on the front page.
However most papers other than the China Daily reproduce a Xinhua News Agency report.
The high court in Zhejiang province called the re-trial on Monday, says the report, which is also published in People's Daily .
In an accompanying report , a spokesman for the Zhejiang high court defended its decision not to hold an open trial, as well as not appointing new judges for the re-trial. Three corrupt officials exposed by Wu's trial have also been imprisoned, the spokesman said.
Guangzhou's Southern Metropolis Daily enhanced the standardised Xinhua report by pointing out in its headline that Wu's case had caused "turbulence" in society since it occurred five years ago.
Wu Ying was convicted of fraudulent fundraising and her case sparked heated debate across China over the issue of private financing - often seen as the only option for small and medium-sized firms.
Beijing authorised trial financial reforms in the city of Wenzhou soon after Wu Ying's original death sentence caused a national outcry.
Also receiving media attention is the release of three Chinese fishing boats by North Korea.
Citing crew members' account, China Daily and Beijing Times say the 28 fishermen - one man less than previously reported - were taken to a North Korean island, where "armed militiamen in DPRK (North Korean) uniform" took away their valuables from shoes to fuel.
Southern Metropolis Daily says the Chinese sailors were kept in the dark during a 13-day ordeal.
The sailors were also forced to sign documents saying they had been illegally fishing in North Korean water, reports say.
The Global Times says foreign media have been stirring relations between Beijing and Pyongyang over this incident, hoping to see a "break up" between the two countries, who are trading partners.