China morning round-up: Local party conferences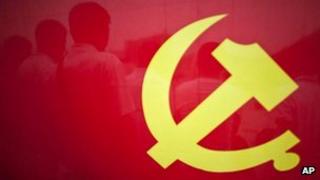 Two local Communist Party conferences lead Wednesday's coverage, as China prepares for its once-in-a-decade leadership change.
China Daily reports Shanghai municipality has elected its party leadership, as well as representatives to the 18th National Congress of the Communist Party of China.
The national congress - due to be held later this year - will choose new members of the powerful Politburo, which is effectively the leadership.
The Shanghai delegation will include Vice-President Xi Jinping, tipped to succeed President Hu Jintao. Yu Zhengsheng, current party chief of China's financial hub, has also won a second term.
Shanghai Daily and Shanghai Morning Post report Mr Yu's vow to serve the people of Shanghai and his emphasis on party officials acting responsibly.
But Hong Kong's Ming Pao Daily News points out that Mr Xi failed to secure all the available votes for his victory, compared to a unanimous vote for President Hu Jintao in Jiangsu and current Communist Party security chief Zhou Yongkang in Xinjiang.
In scandal-hit Chongqing, China Daily says Mayor Huang Qifan was named in the list of delegates for the municipality's party conference, while disgraced former party chief Bo Xilai "was not on the list".
Ming Pao Daily News says Chongqing's party conference has been postponed to June instead of this month "without official explanation", while the omission of six current party officials from the list indicates an imminent major reshuffle following the Bo Xilai scandal.
The exception, said Ming Pao, is that new Chongqing party chief Zhang Dejiang is likely to be listed as part of the central government delegation. Mr Zhang is still a vice-premier.
Meanwhile Sing Tao Daily in Hong Kong says some people are shocked by the news that Chongqing prosecutor Yao Ning is among the Chongqing conference nominees.
Yao Ning was the prosecutor in the case against former lawyer Li Zhuang. Mr Li is accused of fabricating evidence during the course of defending a major gang crime suspect.
Li Zhuang's case is seen as part of Bo Xilai's alleged strong-arm tactics during his anti-gangster campaign, and Sing Tao Daily says Yao Ning's nomination would mean no hope for those wrongly convicted.
Newspapers such as China Daily and People's Daily also report on the Supreme Court's judicial interpretation on insider trading, which includes definition of serious cases.
But regional papers like the Shanghai Daily and Guangzhou's Southern Metropolis Daily are more interested in the downfall of Wang Guangyu, founder of China's home appliance retail giant Gome.
The Supreme Court's guideline cited Wang's case, say the reports, saying the convicted tycoon cashed in nearly 400m yuan ($63.18m; £40.1m) from insider trading.