China's Communist Party expels former railways minister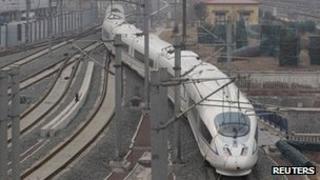 China's Communist Party has expelled a once-powerful former railways minister accused of serious corruption, state-run media report.
Liu Zhijun is under investigation for embezzling more than $120m (£76.52m) while overseeing China's high-speed rail network, Xinhua says.
He was dismissed from his post last year and will now face a judicial investigation.
A fatal collision of high speed trains last July caused a national outcry.
Mr Liu began his tenure as railways minister in 2003 and led a multi-billion dollar investment programme in the country's rail network.
He has been accused of taking massive bribes when handing out contracts for China's high-speed rail link project.
According to the People's Daily newspaper, his actions "caused great economic damage and a bad effect on society".
At least two government audits - one released in 2010 and another in March - have been conducted on the handling of railway funds. Both showed evidence of fraud and irregular accounting and procurement.
China's high-speed railway network, said to be the largest in the world, has also been plagued with safety scandals involving a series of accidents.
These include a deadly crash in Wenzhou city last year that killed 40 people and the collapse of railway track in Hubei province.