China morning round-up: Railway corruption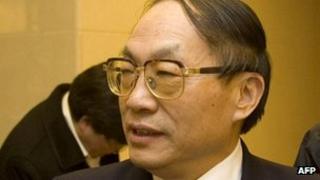 Newspapers carry extensive coverage of the expulsion of former railway minister Liu Zhijun from the Communist Party.
The Central Commission for Discipline Inspection (CCDI) - the party's top watchdog - announced the decision to expel Liu Zhijun on Monday over "serious disciplinary violations".
China Daily says Liu Zhijun took advantage of his position to help business allies.
Shanghai Daily says the former minister was "found guilty of corruption" by the party watchdog. His case will now be handed over to prosecutors.
Local papers such as the Beijing Times look back on the incidents leading to Liu Zhijun's downfall, including a major crash in Shandong province in April 2008 which killed 70 people, and last year's rapid train crash in Wenzhou, Zhejiang, leaving 40 dead.
The 21st Century Business Herald runs an analysis saying that with more and more railway officials being investigated for suspected corruption after Liu Zhijun's downfall, China's high speed railway industry is poised for a reshuffle.
Also on Tuesday, People's Daily and others report on a Politburo meeting chaired by President Hu Jintao which called for "intensifying reform in science and technology".
China Daily and Shanghai Daily also cover Beijing's condemnation of the "cruel killings" of civilians in the Syrian town of Houla and stressed the urgency of eliminating violence in Syria.
People's Daily says Premier Wen Jiabao urged the international community to increase its support for the work of Kofi Annan, the UN-Arab League envoy, and the observation group in Syria, in an aim to peacefully resolve the crisis by political means.
Mr Wen made the comment when meeting his Qatari counterpart Sheikh Hamad bin Jassim al-Thani in Beijing, the report said.
The Global Times' bilingual editorial of the day takes aim at the ongoing visit to Burma by Indian Prime Minister Manmohan Singh.
The bilingual editorial says: "Many Indian and Western media linked this visit with China's interests in Myanmar (Burma), hinting that India's diplomatic effort highlighted its determination to compete with China in the former British colony."
"Some Indian media are obsessed with portraying a scenario of China and India in competition," it said. "It is probably driven by a sentiment of wanting to be seen as being equally important as China."