China morning round-up: China-Japan currency deal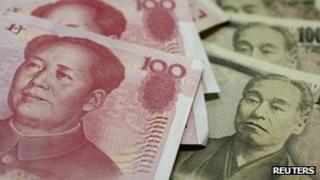 The announcement of a direct trading deal between the Chinese yuan and Japanese yen is the top story for many newspapers on Wednesday.
The two countries will start direct trading of their currencies on Friday in a move to boost trade ties between Asia's two biggest economies, says China Daily .
Shanghai's China Business News and Guangzhou's 21st Century Business Herald describe the deal as a major step in China's currency reform.
Southern Metropolis Daily , citing "incomplete market statistics", says the new scheme will help both countries save $3bn (£1.92bn) of processing fees.
It says the direct trading arrangement will give a major boost to the tri-nation free trade zone between China, Japan and South Korea, on which negotiations are set to begin .
Meanwhile, the Global Times says the yuan-yen trading arrangement will see increased pressure on the US dollar, as China pushes for further internationalisation of the yuan.
In other news, China Daily and Beijing Times report on the meeting between Chinese Defence Minister Liang Guanglie and his Philippine counterpart, Voltaire Gazminin, in Phnom Penh on the sidelines of the Asean defence ministers' meeting.
Mr Liang urged the Philippines to be "discreet in both words and deeds" over the Scarborough Shoal dispute, say the reports, and to take tangible steps towards regional peace and stability.
Mr Gazmin said both countries "should keep communication lines open" to seek a peaceful and proper solution.
The Global Times says foreign media analysis suggests both sides seem to have agreed to lower their tone over the heated dispute.
However a retired navy rear admiral wrote in the Global Times that China should punish its "rogue neighbours" to achieve "good neighbourliness".
Also on Wednesday, China Daily and Shanghai Daily report that police in the eastern city of Hangzhou broke up a human kidney sales ring and rescued 28 "kidney sellers".
The ring was first exposed by the news portal of China's internet giant Tencent , after one of their accredited citizen journalists went undercover in a residential complex where the kidney sellers were housed by the gang.