Google helps China search users avoid censored keywords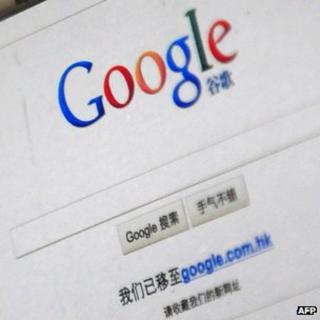 Google has began to offer search users in China suggestions about which words run foul of the country's strict censors.
Until now, users who searched for banned or sensitive words received a "webpage not available" message and their connection was temporarily cut.
Google will now advise users if they are entering a sensitive word, and let them try and find an alternative.
Google's business in China has been held back by censorship issues.
The company started redirecting mainland Chinese users to its Hong Kong website in 2010, citing concerns over censorship and hacking.
Keywords
Google said on its official blog that it had investigated error message complaints and website disconnection issues after being told by users that its search service inside China was erratic.
Google's engineers reviewed the 350,000 most popular search queries in China to look for problems, according to Alan Eustace, senior vice president.
"After digging into user reports, we've noticed that these interruptions are closely correlated with searches for a particular subset of queries," he said.
The company did not refer to these keywords as censored, but internet users said the vast majority of problem searches are related to politically-sensitive issues.
Mr Eustace cited examples involving the Chinese character jiang.
The character means river, but it is also a common surname, notably in the case of former President Jiang Zemin.
When erroneous rumours spread last July that Mr Jiang had died, Chinese officials told social media websites to block searches including the character.
The problem is that even searches which are not politically sensitive - for example for chang jiang, the Yangtze River - are affected by the same block.
Another example mentioned in the blog entry is the character zhou, which means week.
Recent internet rumours involving China's security chief Zhou Yongkang have also resulted in his name being filtered from searches on Weibo, China's equivalent of Twitter.