China morning round-up: Tiananmen crackdown anniversary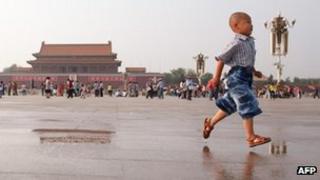 Newspapers in mainland China are quiet on the 23rd anniversary of Beijing's 1989 crackdown against protesters in Tiananmen Square, while many in Hong Kong lead their coverage with the commemoration.
Sing Tao Daily says that an online call for public gatherings by activists failed to materialise in Beijing on Sunday, as the Chinese capital was hit by sudden thunderstorm and hail.
Beijing News reports on the extreme weather and its impact on the capital, but did not refer to the anniversary.
Ming Pao Daily News , citing online sources, says that activists in a few Chinese cities who attempted to mark the event publicly have been taken away by the police.
On its front page , Ming Pao interviews former Tiananmen activist Fang Zheng, who criticised Hong Kong's chief executive-elect Leung Chun-ying for refusing to speak up against Beijing's crackdown 23 years ago.
Mr Fang, who lost both of his legs in Tiananmen Square, is now living in the US. He arrived in Hong Kong for Monday night's annual candlelight vigil.
The AM730 newspaper has an interview with Wu'er Kaixi, one of the former Tiananmen student leaders, who said he does not expect Communist leaders to rehabilitate the victims of the crackdown.
Metro Daily Hong Kong reports on comments by Hsu Tsung-Mao, former Beijing correspondent of Taiwan's China Times, saying that the rehabilitation may not happen until the relevant Chinese leaders pass away.
Mr Hsu was hit by a stray bullet in Tiananmen.
Back in Hong Kong, the Standard and Ming Pao Daily News report that a first-ever makeshift memorial hall of the Tiananmen crackdown was flooded with thousands of visitors despite its low-profile promotion.
And days after Google announced its new feature for mainland Chinese users, which alerts them to censored keywords, Macau Daily Times says search terms related to the 1989 crackdown are also among the list.
In other news, People's Daily and Shanghai Daily report on the visit of US Defense Secretary Leon Panetta to the Vietnamese port of Cam Ranh Bay.
People's Daily suggests that Washington is trying to win support from its former enemy Hanoi. The Global Times , for its part, questions Mr Panetta's speech made at the Shangri-La Dialogue in Singapore, where he said that Washington's decision to place more warships in the Pacific was not targeting China.
In response, Lt Gen Ren Haiquan - China's leader for this year's defence forum - has warned that Beijing's strike back would bring "great fear" to the region, according to Ming Pao Daily News .
The Global Times' bilingual editorial suggests that China should "contend with US on wisdom, not warships".
Also on Monday, China Daily and regional newspapers such as Beijing News and Guangzhou's Southern Metropolis Daily cover the emotional funeral of a coach driver in the eastern city of Hangzhou.
Wu Bin was driving along a highway last Tuesday when a blunt object flew across the road, smashed the windscreen and hit his chest, reports say.
Despite the heavy impact, Mr Wu managed to stop the vehicle and calm the 24 passengers on board before he collapsed.
He died on Friday from severe liver fracture and other injuries at the age of 48. His story has made national headlines.