China refinery boss accused of stealing 60kg of gold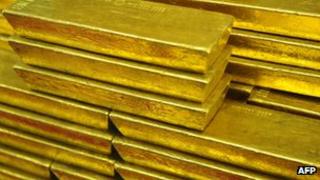 A former top official of a large gold refinery in China has been detained for allegedly stealing 60kg (132.27lb) of gold, state media has reported.
The state-owned firm in the inner Mongolia region is a designated refinery for China's central bank, the Xinhua news agency reported on Tuesday.
The suspect is also accused of stealing silver and cash.
Communist Party officials say the thefts were so damaging that the refinery nearly closed down.
Prosecutors allege that the former chairman of the Qiankun Gold & Silver Refinery Share Co embezzled 21m yuan ($3.32m;£2.1m) in state assets since 2003.
They say that the suspect, who has been under investigation since 2010, stored some of the loot in the back of a parked car inside a Beijing apartment block.
Communist Party Discipline Inspection Secretary He Guoqiang said that the suspect's corruption has has had a major impact on the state-owned firm.
In a speech published in the Communist Party's influential Qiushi journal over the weekend, Mr He said he had requested all state-owned enterprises to tighten supervision of their officials.