China seeks to tighten rules on blogging platforms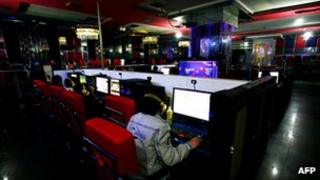 China has unveiled proposed changes to its internet law that seeks to restrict activity on microblogging platforms and other online forums.
Part of the proposal involves changing the definition of "internet service providers" to include blogs, microblogs and online forums.
An official statement said this would help curb illegal activity online and develop trust among users.
The country routinely censors topics that it considers controversial online.
The proposal was posted on the State Council Information Office website and the Ministry of Industry and Information Technology.
The plan will require users throughout the country to register with their real identities in order to post online. This rule is already in place in the capital Beijing and a few other major cities.
Other changes would also include requiring microblog operators such as Tencent and Sina Corp to obtain an administrative licence.
Internet firms would also be required to keep record logs for 12 months and assist police and security agencies when necessary.
Increasing numbers of China's estimated 500 million internet users have been using microblogging platforms to criticise government policies or vent anger over certain incidents in a country that strictly controls media.
Chinese officials have repeatedly criticised microblogs for spreading what they call "unfounded" rumours.
The proposal is open for feedback from the public until 6 July .