China's Hu Jintao urges Iran to be 'flexible' on nuclear issue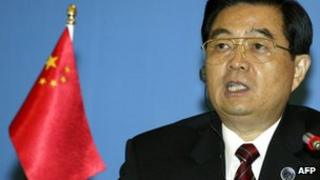 Chinese President Hu Jintao has held meetings with his Iranian and Afghan counterparts on the sidelines of a regional summit in Beijing.
Mr Hu urged Iranian President Mahmoud Ahmadinejad to be "flexible and pragmatic" ahead of talks on Iran's nuclear program, China's state media say.
Talks between Iran and six major powers are due next month.
Iran consistently denies its nuclear programme has a military aspect.
According to Xinhua news agency Mr Hu urged the Iranian president to co-operate with the UN's nuclear watchdog.
"China hopes Iran can take a flexible and pragmatic approach, have serious talks with all the six related nations and enhance dialogue and cooperation with the IAEA to ensure tensions are eased," Xinhua quoted Hu Jintao as telling his Iranian counterpart.
Iran is to hold talks with a group of six nations, commonly known as "P5 plus one" on the nuclear issue. They include the United States, Britain, Germany, France, Russia and China.
Correspondents say China is against the use of force to resolve the Iranian nuclear issue. But it is also opposed to Iran developing nuclear weapons.
The BBC's Michael Bristow in Beijing says China relies heavily on Iran for its oil. In return, Beijing gives Tehran diplomatic support.
In his talks with the Afghan President Hamid Karzai, Mr Hu said his country would increase cooperation with Afghanistan as Nato-led troops there prepare to withdraw.
He reportedly offered an aid package worth $24m (£15.5m) to Afghanistan for the current year.
The Chinese leader held separate meetings with the visiting presidents on the sidelines of Shanghai Cooperation Organisation summit in Beijing on Friday.