China morning round-up: Economy worries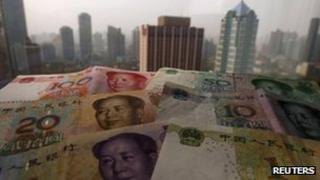 Economic data published during the weekend in China are being discussed in Monday's newspapers as the country is worried over a possible slowdown.
Shanghai Daily says China's exports and imports rebounded more strongly than expected in May, providing more breathing space for policy-makers to implement supportive measures.
P People's Daily says China would be able to meet the 10% growth target for international trade as there is abundant demand from emerging markets, while the economy in Japan and the United States are both recovering.
But the China Daily warns that it is still too early to throw caution to the wind and prospects for the year remain dim.
As China's inflation slowed to 3% in May, the paper, citing economics experts, says pressure has been increasing on the government to roll out more stimulus measures.
An editorial in Shanghai's China Business News says China must give up the "one size fits all" approach towards stabilising economic growth. China should allow individual regions across the country decide on their own development modules, it said.
Papers including the Global Times' English edition and Beijing News also reported on China's announcement that it would send three astronauts - including women - to its Tiangong-1 space station module in mid-June.
Citing senior officials from China's space mission, the Beijing Times says the authority preferred married female astronauts "for being more mature, both mentally and physically".
T The Global Times' Chinese edition and Beijing News also reported on a "fishing competition" by some Japanese members of parliament held on Sunday in water near the disputed Senkaku islands, which is known as Diaoyu in China.
The Shanghai Morning Post says the event has been largely ignored by Japanese media, while the Global Times' bilingual editorial says, "the Chinese government should leave more room for the public to deal with Japan and keep a balance between the sentiments that the two hold toward each other."
China Daily and Shanghai Daily say archaeologists in central Shaanxi province have been celebrating their latest discovery at the Terracotta Warriors burial site in Xian.
They have found "a painted, cortex shield on a chariot" from the excavation site, which dates back to more than 2200 years ago.
Shanghai Morning Post and Guangzhou's Southern Metropolis Daily also covered the "emergency notice" from the education ministry as a total of 16 students drowned in three separate incidents across China on Saturday.
A Beijing News commentary described the coincidence as shocking. It also urged first aid and safety education to be implemented across China.
In Hong Kong, the Standard , Ming Pao Daily News , AM730 and other media gave extensive coverage to a rally that appealed for justice for Chinese dissident Li Wangyang following the questionable circumstances surrounding his death.
Organisers said some 25,000 people had joined the rally, while police said only 5,400 were there.